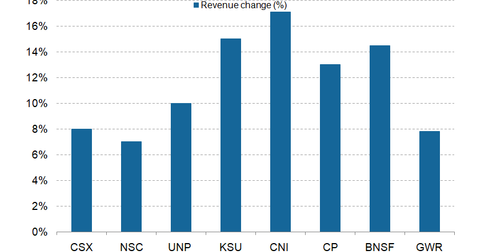 Which US Railroad Saw Highest Revenue Growth in 2Q17?
By Samuel Prince

Updated
US railroads' 2Q17 revenue change
We'll start this railroad series with a comparison of railroads' top lines. Revenue growth for railroads primarily depends on increased volumes and better pricing. In this part, we'll assess the revenue change reported by these railroads in 2Q17.
Article continues below advertisement
Reasons behind 2Q17 revenue change
From the above graph, it is clear that the 2Q17 revenues suggest a turnaround for major US railroads. Note that Canadian National Railway (CNI) leads the pack when it comes to year-over-year revenue growth in 2Q17. The company's revenues jumped by 17.1% on strong volume growth in grain, fertilizers, and intermodal.
Kansas City Southern's (KSU) top-line growth ranked next to CNI in 2Q17. The former reported a 15% rise in revenues. On a 6% rise in quarterly volumes, KSU clocked 15% revenue growth, which suggests strong pricing gains for the company in 2Q17. The revenues were driven by strength in energy, automotive, and chemicals and petroleum carloads.
Driven by strong coal revenues and ~9% higher shipments in 2Q17, BNSF Railway (BRK-B) registered 14.5% revenue growth. The company ranked third in terms of revenue growth in the peer group in the discussed quarter. Given BNSF's size of operations, the revenue growth is commendable.
Canadian Pacific Railway's (CP) revenue growth was 13% in 2Q17. The latter's revenues rose primarily due to favorable foreign exchange translations and higher volumes of Canadian grain, fractionating sand, export potash, crude, Canadian coal, and domestic intermodal.
Which railroad's revenue growth was lowest?
Virginia-headquartered Norfolk Southern (NSC) ranked the lowest in terms of revenue growth in 2Q17. The company's revenues rose 7% in that quarter. Importantly, excluding the impact of fuel surcharge revenues, NSC's revenue growth was flat in 2Q17. Much of the revenue rise came from significantly higher coal revenues.
The next lowest revenue growth was recorded by Genesee & Wyoming (GWR) with a rise of 7.8%. Notably, GWR actively engages in acquiring class III or short-line US railroads. The 2Q17 revenues of the company include revenues from the two acquisitions in fiscal 2017. Union Pacific (UNP) registered the third-lowest revenue growth in the peer group in 2Q17. In terms of yearly revenues, the company ranks highest in the Class I peer group.
The next article focuses on the change in coal volumes and revenues of these railroads (XLI) in 2Q17.