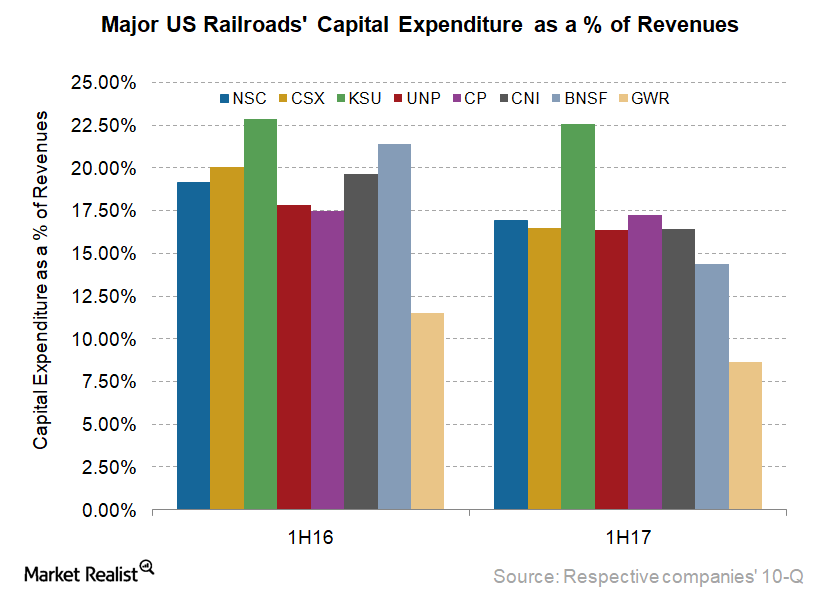 Which US Railroad Had the Highest Capital Expenditure in 1H17?
By Samuel Prince

Sep. 15 2017, Updated 10:38 a.m. ET
Railroads' capex
Now, we'll examine the capital expenditure of these major US railroads in 2Q17. US railroads tend to incur higher capital expenditure compared with trucking companies. The primary reason is maintenance, replacement, and expansion of tracks. On the contrary, trucks run on highways built by federal and state governments.
Normally, if a US railroad is spending a sizable amount on capital expenditure, it reflects a positive outlook towards future growth. The higher the capital expenditure, the higher the future growth prospects. Investors should consider a railroad's capital investment along with other key metrics. Maintenance capex takes up up to half of a railroad's total capital investment. On the other hand, growth capex is for investment in new railcars and locomotives.
Article continues below advertisement
Which US railroad had highest 1H17 capex?
Usually, capital expenditure is expressed as a percentage of revenue. From the above graph, a clear trend has emerged regarding capex. Note that capex as a percentage of revenues has fallen for all the major US railroads in the first half of 2017.
Amid a weak business environment forecasted in late 2016, all major railroads decided to slash their capital expenditure for 2017. The seven Class I freight railroads in the US collectively spent $16.7 billion on capex in 2016. This figure is expected to fall to $14.9 billion in the current year, reflecting a decline of 11%.
The smallest Class I railroad, Kansas City Southern (KSU), outpaced its peers. The company's ratio was 22.5% in 1H17, slightly down from 22.9% in the same period last year. Canada's second-largest freight rail, Canadian Pacific Railway (CP) ranks second in the peer group with 17.3% capex-to-revenues ratio in 1H17. For CP as well, the ratio has marginally changed. Genesee & Wyoming (GWR) has the lowest ratio in the peer group. The same has gone down to 8.6% in 1H17 from 11.5% in 1H16, indicating curtailments by the company. However, investors should remember that the non-Class I railroad, GWR extensively engages in acquiring small railroads across the globe.
The highest fall in capex-to-revenues ratio was observed for BNSF Railway (BRK-B). From 21.4% in the first half of last year, the company's ratio has fallen to 14.3%. It was followed by Canadian National Railway (CNI), which saw its ratio fall to 16.4% from 19.6% in 1H16.
ETF investment
The SPDR Global Dow ETF (DGT) is a global ETF related to the Global Dow Index. US airlines make up 3.6% of the portfolio holding of DGT.
The next part of this series assesses the debt levels of the major US railroads.