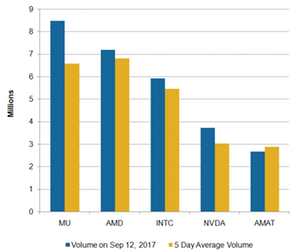 Which Semiconductor Stocks Top the List across Variables?
By Puja Tayal

Updated
The top semiconductor stocks across different variables
In this series, we looked at some of the top semiconductor stocks for traders and investors. After analyzing all the above variables, we've shortlisted the top semiconductor stocks that have appeared the most in our lists.
Nvidia (NVDA) appeared in six of the ten lists, while TSMC (TSM), Intel (INTC), and Micron (MU) appeared in five, and Broadcom (AVGO) appeared in four. Advanced Micro Devices (AMD) made the top in three lists.
Article continues below advertisement
TSMC and Intel
TSMC and Intel are the two largest semiconductor companies, not only in terms of market capitalization but also in revenue and EBITDA (earnings before interest, tax, depreciation, and amortization).
TSMC is also one of the most cash-rich semiconductor stocks in the world, which makes it a fundamentally sound company. However, the recent orders from Apple (AAPL) have spurred optimism among investors and pushed TSMC into the overbought category. As TSMC is based in Taiwan, it doesn't pay a dividend in the US.
Intel is among the top dividend stocks highly traded on the NASDAQ. TSMC and Intel are both safe investments and some of the top picks for risk-averse investors, though they don't generate strong capital returns.
Nvidia and Micron
Nvidia and Micron represent top picks for many investors who looking for high capital returns. Both these stocks are some of the highest-traded stocks, and Nvidia's strong stock performance has made it a highly valued stock with a high PE (price-to-earnings) ratio.
Among these two, Nvidia appears to be less risky than Micron as it is a cash-rich stock with high market capitalization. But the stock has high volatility, which means it reacts to news more aggressively than the market. This volatility would become a risk factor if there is any negative news arrives.
Article continues below advertisement
Micron is a riskier bet as it has already entered the overbought category. Although Micron is one of the top semiconductor stocks in terms of revenue and EBITDA, these figures are largely dependent on the favorable memory prices. Once the memory market uptrend ends, earnings will likely decline, sending the stock crashing down. The key here would be to exit the stock on time.
Broadcom and AMD
Broadcom is on the list of top five due to its large size in all aspects—revenue, EBITDA, and market capitalization. On the other hand, AMD is on the list of top five because of its high risk, being one of the highest-traded, most volatile growth stocks.
Overall, the above six semiconductor stocks have been major industry movers, helping the industry outperform the S&P 500 Index over the past year.