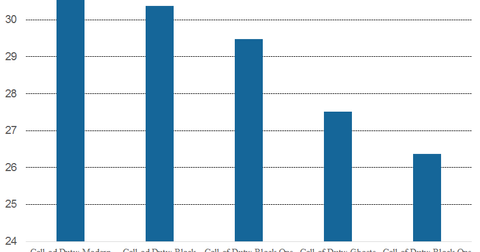 Which Games Are Expected to Drive Activision's Revenues in 2017?
By Adam Rogers

Updated
Call of Duty: World War II
Activision (ATVI) is scheduled to release Call of Duty: World War II on November 3, 2017. This new release in the popular franchise is expected to drive sales during the 2017 holiday season. 
During Activision's 2Q17 earnings call, its chief operating officer, Collister Johnson, stated, "We see great momentum for World War II, not only from key indicators like pre-orders, stated purchase intent and hands-on player feedback but also from more qualitative measures like video views, social sentiment and engagement which are up year-over-year."
Recently, Activision also launched Call of Duty: World War II Nazi Zombies, which was the company's most-liked Zombie trailer ever. The beta version was exclusively available on PlayStation 4 (SNE) to customers who preordered the game. 
According to Statista, Call of Duty: Modern Warfare 3 is Activision's most popular Call of Duty game, with ~31 million units sold.
Article continues below advertisement
Destiny 2
Activision is also optimistic about the launch of Destiny 2, which won the E3 Game Critics' PC Game award. The game is available on Blizzard's Battle.net, the first non-Blizzard game to be released on the platform. Activision's management believes that publishing the game on its platform could enhance the player experience.
While the PC beta has yet to be released, the Destiny 2 console beta had more players than Destiny 1. Preorders for this game are also higher compared to the earlier version, and full-game preorders for Destiny 2 also has the highest digital mix recorded for Activision.
Activision also released Crash Bandicoot for PlayStation 4 (SNE), showcasing its ability to create content across player communities. Activision stated that this game has surpassed its most optimistic expectations and was the world's top-ranked console title based on unit sales in June 2017.