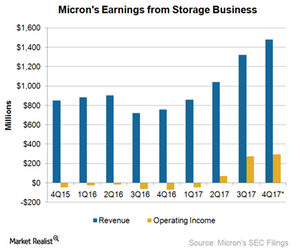 Where Is Micron Focusing Its Storage Business?
By Puja Tayal

Sep. 26 2017, Updated 6:36 a.m. ET
Micron's Storage business unit
Micron Technology (MU) witnessed strong growth in its largest business—Compute and Networking. It also witnessed strong double-digit growth in its second-largest segment, SBU (Storage Business Unit), which serves client and enterprise laptops, cloud, and traditional enterprise servers. It offers a mixed blend of DRAM (dynamic random access memory) and NAND (negative AND) with the majority of its NAND being used in SSDs (solid state drives).
Micron's new CEO, Sanjay Mehrotra, comes from a NAND background. He previously headed the world's third-largest NAND flash maker, SanDisk, in the past. Using his expertise, Micron aims to expand its presence in the enterprise SSD market.
Article continues below advertisement
SBU earnings
Over the last three quarters, SBU's revenues rose 13.5%, 20.9%, and 26.9% sequentially largely because of increasing demand for SSDs—enterprise SSD in particular. These revenues were also driven by strong memory prices.
The increasing prices pulled SBU out of operating losses in fiscal 2Q17 and almost tripled its operating profit in fiscal 3Q17. The fiscal 3Q17 earnings increased significantly as NAND contract prices rose in April 2017 and the contribution of DRAM in SBU increased due to increasing demand for server DRAM.
For fiscal 4Q17, SBU revenues are expected to grow 12% sequentially, with a majority of growth coming from an increase in sales volumes instead of prices. DRAM and NAND contract prices have been flat for the three months ended August 2017, according to data from DRAMeXchange.
Enterprise server
At the Citi 2017 Global Technology Conference, Micron's CFO, Ernie Maddock, stated that server is a major end market of Micron and it is seeing strong demand for server DRAM. He stated that server DRAM bit growth was probably 30% in fiscal 3Q17 and 40% for hyperscale in particular, which is double the overall DRAM bit growth of 20%.
Maddock stated that server DRAM demand increased largely because more enterprises started using the massive amounts of data that they collected and stored over the years to gain business insights and business intelligence. Processing of such huge sections of data increased DRAM content per server. However, he did not rule out AI (artificial intelligence) as an important revenue driver in the server market.
Micron focuses on enterprise SSD
Maddock stated that Micron's priority is to make its NAND Flash SSD technology competitive and then to penetrate into the storage market, especially enterprise storage, with this competitive technology.
In order to focus on high-margin enterprise SSD, Micron agreed to sell its flash storage retail brand, Lexar. Lexar was spun off from Cirrus Logic (CRUS) to Shenzhen Longsys Electronics for an undisclosed amount.
Next, we will look at Micron's Mobile business.