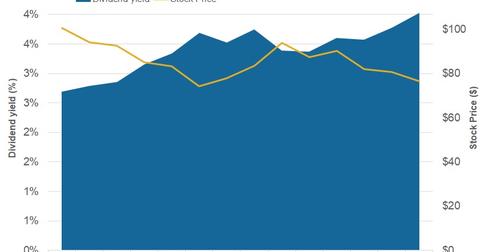 Where ExxonMobil's Dividend Yield Stands among the Top Integrated Energy Stocks
By Maitali Ramkumar

Updated
ExxonMobil's dividend yield
ExxonMobil (XOM) is sixth on our list of top ten dividend-yielding integrated energy stocks. XOM is an American integrated energy company with upstream, downstream, and chemicals segments. The company has the largest market capitalization in our select group at ~$324 billion.
XOM has a current dividend yield of 4.0%. In 3Q17, XOM announced a dividend of $0.77 per share on July 26, 2017, which will be paid on September 11, 2017.
XOM has paid dividends steadily for decades. Over the past three years, despite its earnings volatility, its dividends have risen. Three years ago, XOM had made a quarterly dividend payment of $0.69 per share on September 10, 2014, while its stock fell 24% during the same period.
Article continues below advertisement
Latest 1H17 earnings
In its 1H17 results, XOM posted a 110% YoY (year-over-year) rise in its earnings, totaling $7.4 billion, due to increases in its upstream and downstream earnings, partially offset by a fall in its chemical earnings.
The upstream segment, which stood at $218 million in 1H16, rose to ~$3.4 billion in 1H17, due to an increase in average hydrocarbon realizations. XOM's downstream earnings grew 44% YoY to $2.5 billion in 1H17, but XOM's chemical earnings fell from nearly $2.6 billion in 1H16 to almost $2.2 billion in 1H17.
Valuations
XOM is trading at a forward PE (price-to-earnings) ratio of 20.8x—below the average forward PE of 21.5x. But XOM trades at a forward EV-to-EBITDA (earnings before interest, tax, depreciation, and amortization) multiple of 8.4x, which is above the peer average of 6.2x.
ExxonMobil (XOM) is a financially strong company with comfortable leverage and a good liquidity position. Its total-debt-to-total-capital ratio stands at 18%, and it has an excess cash flow from operations after covering its capital expenditure and dividend payments.
In 1H17, XOM's excess cash flow stood at 18% (as a percentage of cash flow from operation). For more, please refer to Market Realist's "Integrated Energy Companies and Their Leverages in 2Q17."