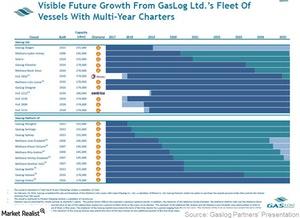 What's the Latest from Gaslog and Gaslog Partners?
By Sue Goodridge

Sep. 22 2017, Published 10:02 a.m. ET
About Gaslog and Gaslog Partners
Gaslog (GLOG) is an operator and manager of LNG carriers. It supports international companies in the LNG logistics chain. The company currently has a fleet of 22 vessels on the water. GasLog Partners (GLOP) is an LP (limited partnership) with its sponsor GasLog. Gaslog Partners has a fleet of 11 vessels.
Article continues below advertisement
Acquisition
On September 15, 2017, Gaslog Partners announced its agreement to purchase from Gaslog 100% of shares in the entity that owns and charters Solaris. The purchase price for the acquisition will be $185.9 million. Gaslog Partners expects to finance this acquisition with cash on hand and Solaris's existing debt of $117 million. The acquisition will close in the fourth quarter of 2017.
Benefits of the acquisition
According to the company, the acquisition will be immediately accretive to distributable cash flow per unit, which is also consistent with Gaslog Partners' strategy to grow distributions through dropdowns. A dropdown of an asset is actually a sale transaction between the GP and LP (limited sponsor).
According to Gaslog Partners, this acquisition will add $20 million to the company's EBITDA in the first 12 months. Based on the purchase price, the acquisition represents a multiple of approximately 9.2x estimated EBITDA. Solaris is Gaslog Partners' ninth LNG carrier acquired from Gaslog after the IPO. This will now expand GLOP's fleet to 12 vessels. The contracted days for 2018 and 2019 for GLOP are 90% and 72%, respectively.
In the next part of the series, we'll see what analysts recommend for Gaslog and Gaslog Partners. Later in this series, we'll look at analyst recommendations for Hoegh LNG Partners (HMLP), Teekay LNG Partners (TGP), and Dynagas LNG Partners (DLNG).