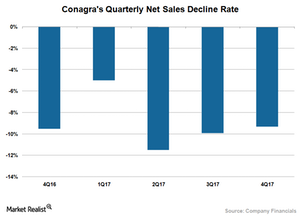 What's Restricting Conagra's Upside?
Sales could fall in coming quarters
Conagra Brands (CAG) is expected to see declining sales in coming quarters as a result of lower volumes due to weak demand for packaged food in the US (SPY) and the company's planned brand divestitures. Management projects its organic and net sales to remain muted in fiscal 2018 and estimates sales will stay flat or fall up to 2%. In addition to lower volumes, the company's sales growth rate could take a hit from an unfavorable product mix and its shift from offering deep discounts.
Article continues below advertisement
Conagra is focusing on transforming its portfolio into a modern and premium one through the rollout of innovation-led products, which is expected to drive its sales in the long run. Meanwhile, the company's acquisition of fast-growing brands could generate incremental sales. However, in the near term, tepid demand and portfolio pruning could restrict sales growth.
Margins growth rate to slow down
Conagra Brands produced stellar margins during the last fiscal year despite sales deleverage. Increased pricing, promotion rollbacks, exit from low-margin businesses, SKU rationalization, and cost reduction facilitated the strong growth in its profitability.
However, the company's margins growth rate could slow down in fiscal 2018. Management expects fiscal 2018 adjusted operating margins to expand by ten to 50 basis points, a much slower rate compared to the 310 basis-point expansion in fiscal 2017.
Conagra's planned investment in innovation, rise in input costs, and continued volume declines could restrict its margins growth rate.