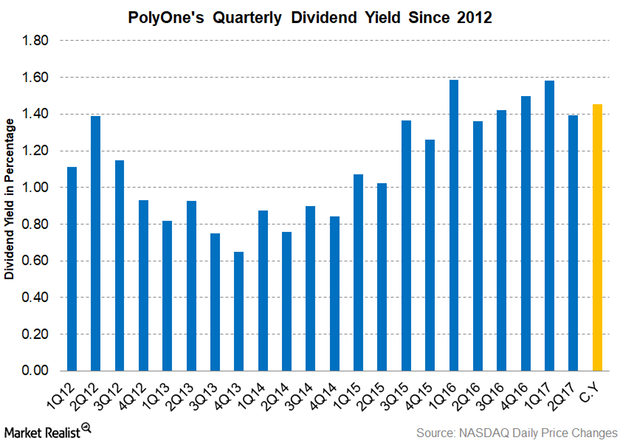 What PolyOne's Dividend Yield Suggests
PolyOne's dividend yield
For long-term investors, a dividend yield is one of the major influencing factors. Investors tend to prefer stocks with high dividend yields and a good dividend growth. A dividend yield is a return that investors get for every dollar they invest in a company's equity.
If PolyOne maintains its dividend rate, we can expect it to pay a dividend of $0.54 per share for fiscal 2017. As of September 14, 2017, POL's current dividend yield stands at 1.5%. Its peers Westlake Chemical (WLK), Eastman Chemical (EMN), and Huntsman (HUN) have current dividend yields of 1.1%, 2.4%, and 1.8%, respectively. Although POL's dividend yield is recovering from a low of 0.65%, its dividend yield is still trailing compared to its peers, with the exception of WLK. Since 2012, POL's dividend yield has varied in the range of 0.65% to 1.6%.
POL's current dividend yield is marginally higher than the yield on one-year Treasury bonds. To attract more long-term investors, POL might have to consider increasing its dividend more aggressively to have a higher dividend yield.
Article continues below advertisement
Dividend payout
POL's dividend payout since 2012 has been largely in the range of 25.0%. A higher earnings retention could help the company's future expansion plans and other financial activities. However, that might not please long-term investors since the dividend payout would be less.
Investors looking to invest in POL indirectly can invest in the iShares Morningstar Small-Cap (JKJ), which has invested 0.50% of its portfolio in POL as of September 14, 2017.
In the next part, we'll look at POL's latest analyst recommendations.