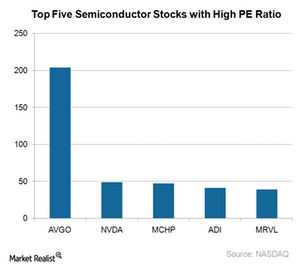 What It Takes to Make the Top 5 Highest-Valued Semiconductor Stock List
By Puja Tayal

Sep. 19 2017, Updated 7:38 a.m. ET
PE ratio
Short-term investors and traders look at stock price variables, whereas long-term investors look at fundamental variables such as price ratios when selecting a stock.
The PE (price-to-earnings) ratio is the most common ratio used by investors because it tells us the amount that investors are willing to pay per dollar of EPS (earnings per share). A high PE ratio shows that a company is overvalued, though this can differ on a case-by-case basis. A high growth company may have a high PE ratio, which can make it look overvalued next to more mature companies.
Article continues below advertisement
The highest-valued semiconductor stocks
As of September 12, 2017, Broadcom (AVGO) had the highest PE ratio of 203.54x, followed by Nvidia (NVDA) at 48.4x, Microchip Technology (MCHP) at 46.9x, Analog Devices (ADI) at 41.05x, and Marvel Technology (MRVL) at 38.64x.
These PE ratios are way above the semiconductor industry's average PE ratio of 23.4x and the S&P 500 average PE ratio of 21.5x. All five stocks have grown faster than the semiconductor industry average over the past year.
Broadcom
Broadcom stock has risen 56% over the past year, whereas its calendar 2Q17 EPS rose 46% YoY (year-over-year) to $3.69. The company's stock price rose faster than its EPS, making it highly valued.
Analysts are still bullish on the stock and expect the stock to make a new high in over the next 12 months. Notably, this bullishness is being driven by orders from Apple (AAPL).
Article continues below advertisement
Nvidia
Nvidia is a growth stock that is likely to have a high PE ratio, but that doesn't mean it's an overvalued stock. The company's stock price has risen 185% in the past 12 months, whereas its calendar 2Q17 EPS rose 91% YoY to $1.01.
The stock still has strong growth potential as its efforts in autonomous vehicle begin to materialize in calendar 2018.
Microchip and ADI
Microchip's and ADI's quarterly EPS rose faster than their stock prices, and their high EPS growth rates made investors bullish on these stocks. Microchip integrated Atmel in 2016 and ADI integrated Linear Technology in 2017. This increased the two acquirers' EPS. Remember, when EPS (denominator) increases faster than price (numerator), PE falls.
But in acquisitions wherein a high PE ratio company acquires a low PE ratio company, the stock price of the acquirer continues to trade at their pre-acquisition PE ratio, which makes it overvalued. The market gradually corrects itself and reduces the PE ratio.
Marvell
Marvell's stock price has risen 43% in the past 12 months, while its calendar 2Q17 EPS rose 220% YoY to $0.33. This strong EPS growth came after reporting a loss per share in 2016. The company's stock price has already priced in a bullish earnings estimate that the company has yet to realize.
In the next and final part, we'll look at the top semiconductor stocks across different variables.