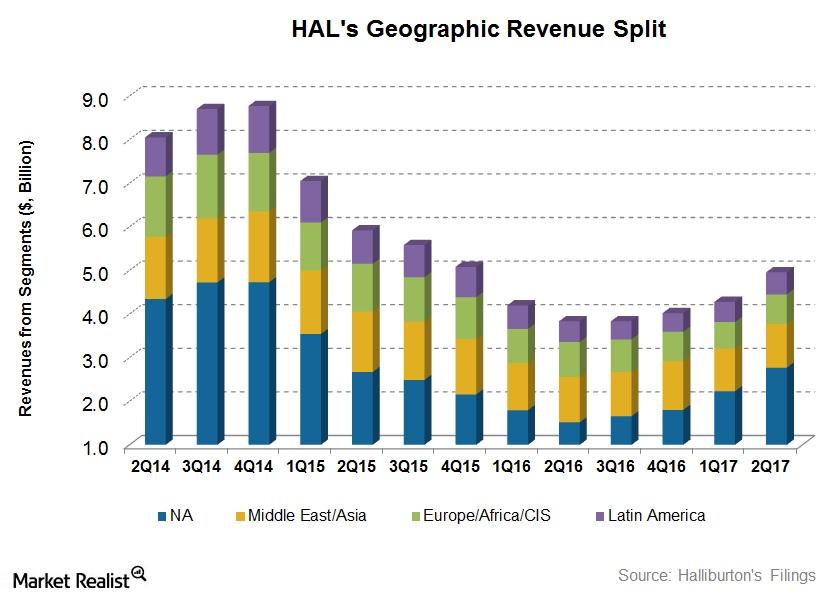 What Drove Halliburton's Revenues in 2Q17?
HAL's C&P segment
From 2Q16 to 2Q17, Halliburton's (HAL) C&P (Completion and Production) segment revenues rose 48% on higher pressure pumping asset utilization and better pricing in the US onshore business.
Article continues below advertisement
HAL's D&E segment
From 2Q16 to 2Q17, HAL's D&E (Drilling and Evaluation) segment revenues rose ~6%. Increased drilling activity in North America, Latin America, North Sea, and Russia led to higher revenues in 2Q17.
Notably, Halliburton makes up 9.9% of the iShares US Oil Equipment & Services ETF (IEZ), which has fallen 17% in the past year, while HAL has fallen 10%.
HAL's geographic revenue split
From 1Q17 to 2Q17, Halliburton's revenue from North America rose 24%. This was the strongest revenue growth among HAL's geographic revenue shares and was followed by a 12% sequential revenue rise in its Europe, Africa, and CIS (Commonwealth of Independent States) region.
On the other hand, revenues from HAL's Middle East and Asia region rose only 2% during the same period.
By comparison, Schlumberger's (SLB) revenues rose 8% in 2Q17 over 1Q17, while TechnipFMC's (FTI) revenues rose ~13% during the same period. From 1Q17 to 2Q17, Nabors Industries' (NBR) revenues rose ~12%.
Now let's discuss Halliburton's operating income from these segments.