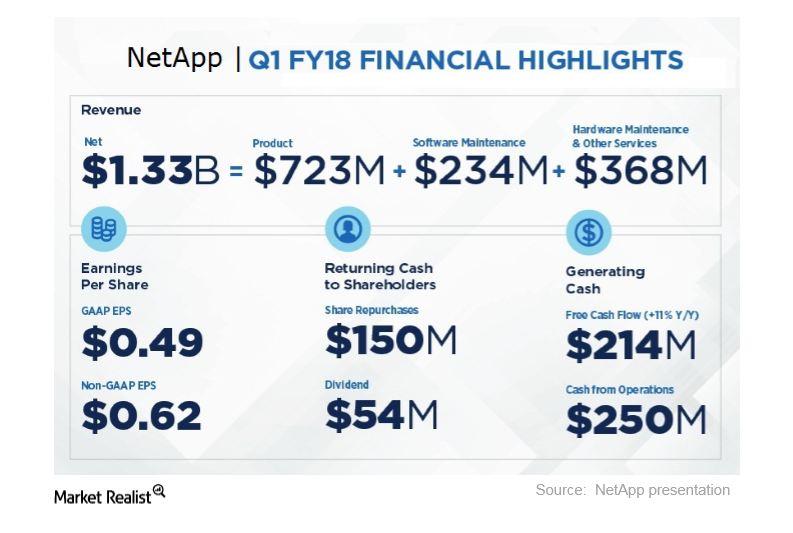 What Are NetApp's Growth Drivers?
By Ruchi Gupta

Sep. 6 2017, Updated 1:19 p.m. ET
Riding flash memory demand
NetApp (NTAP) continued beating earnings expectations in the latest quarter when results also exceeded internal guidance and rose from the year-ago period. What's behind NetApp's strong quarterly results?
NetApp is riding on strong demand for flash memory and next-generation convergence products. The company's expanding range of storage solutions is also giving it an edge over competitors such as Pure Storage (PSTG), Seagate Technology (STX), Western Digital (WDC), and Hewlett Packard Enterprise (HPE).
Article continues below advertisement
Revenue up 2%
For 1Q18 (June quarter), NetApp reported a 2% year-over-year increase in revenue to more than $1.3 billion, topping consensus estimates. Adjusted EPS (earning per share) came to $0.62, ahead of the consensus estimate of $0.37. The above chart shows a snapshot of NetApp's 1Q18 performance.
Flash array revenue up 95%
NetApp CEO, George Kurian, who took the job in 2015, has said that the company continues to invest in building a strong foundation on which to drive future growth. Kurian has tended to focus the company more on flash products and NetApp's track record under his watch, and it seems his strategy is working.
NetApp has routinely topped estimates in the recent quarters and the year-over-year growth rate in key segments is respectable. The company's product sales rose 10% in the latest quarter, and its all-flash array revenue run rate rose 95%.
NetApp's fiscal 2Q18 revenue outlook is above the analyst consensus estimate.