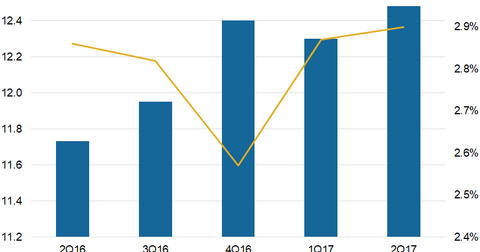 Wells Fargo's Higher Margins Bode Well for Growth in 2H17
By Robert Karr

Updated
NIMs to stabilize around 3%
As the Fed has raised rates over the past few quarters, banks (XLF) have garnered higher net interest margins (or NIM), which are expected to stabilize after the last expected hike in 4Q17. As liabilities also get repriced, net interest margins are expected to stay around 2.8% to 3.0% for Wells Fargo in the upcoming quarters. In 2Q17, the bank managed NIM of 2.9% compared with 2.87% in the previous quarter and 2.86% in the prior-year quarter. The bank commands one of the highest margins in the sector, reflecting its long-term strategy and strength in selecting quality credit and sourcing funds at lower costs.
Article continues below advertisement
Wells Fargo (WFC) generated NII (net interest income) of $12.5 billion in the June quarter compared with $11.7 billion in the prior year. Sequentially, the bank saw marginal improvement in margins as well as net interest income. The short rates also had a positive impact, as the cost of repricing liabilities was delayed.
Wells Fargo's peers JPMorgan Chase (JPM), Bank of America (BAC), and Citi (C) have also seen their NIMs rise as the Fed has raised rates since December 2015.
Trading and wealth management
Wells Fargo's non-interest income has been subdued in the recent months on lower trading activity, mortgage banking, and trading gains, partially offset by trust and investment fees, investment banking, card, commercial estate, and other income. Trading activity is expected to revive in the second half of 2017 as markets remain strong. In 2Q17, the bank's non-interest revenues stood at $9.7 billion compared with $10.4 billion in 2Q16.
Wells Fargo has continued to draw higher fees in investment banking areas due to strategic transactions, higher fund raising, and listings.