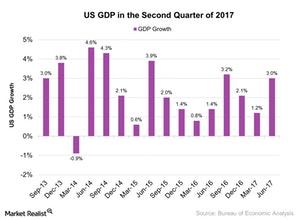 Why Warren Buffett Is Skeptical about 3% GDP Growth
By Sarah Sands

Updated
Warren Buffett on US GDP growth
Legendary investor Warren Buffett shared his views on US economic growth (IWM) in an interview with CNBC on Wednesday, August 30, 2017. He said, "This doesn't feel like a 3% GDP economy."
The second quarter US economic growth (SPY) (QQQ) recently revised to 3.0% from 2.6% growth reported earlier. It was far better than the market expectation and a 1.2% growth in the first quarter of 2017. Higher consumer spending and stronger business sentiment mainly drove GDP in the second quarter. However, Buffett believes this is not 3.0% growth environment.
Article continues below advertisement
What economic growth feels like to Buffett
Buffett said, "I would guess we're in a 2 percent growth economy now. Every now and then we think it's accelerating. And every now and then that maybe there's a double dip or something. It just seems to be a couple of percent." He added, "If we have 2 percent for a generation, 25 years, you would have a $19,000 GDP gain per person in the United States."
According to Buffett, if the US economy would grow at a real rate of 3.0%, we would see more GDP gain per person. He also thinks that 2.0% growth is also good for the economy. But he believes that in order to post a 3.0% real economic growth, economic activity needs to improve at a rapid speed.
In the next part of this series, we'll analyze Berkshire Hathaway's largest sector holdings as of June 30, 2017.