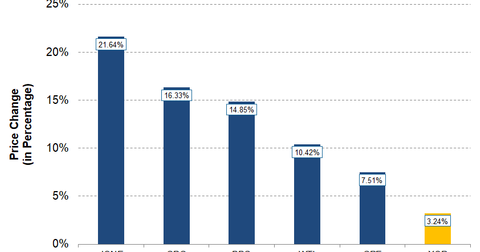 Upstream Gainers This Week: Jones Energy Leads the Pack
By Nicholas Chapman

Updated
Jones Energy rising strongly this week
So far this week (starting September 18, 2017), Jones Energy (JONE) has risen the most from last week's close of $1.34 to $1.63 on September 20, marking a significant increase of ~22%.
Interestingly, there has been no news release by the company this week, but JONE has been in a strong upward trend since August 29, 2017.
The uptrend is so strong that on Wednesday JONE marked its first decline after seven consecutive up days. On Thursday, September 14, JONE crossed above its 50-day moving average and followed through the next day with one of its highest volume days in 2017. Since its low in August 2017, Jones Energy has risen ~70%.
However, despite the recent rally in the stock, over the long term, Jones Energy has a lot of work to do. So far in 2017, as of September 20, JONE has fallen ~65%. In August 2017, JONE marked a lifetime low of $0.96.
JONE made a lifetime high of $19.12 in July 2014, but the devastating decline in the stock since then can be attributed to its high debt situation. Jones currently has the highest net-debt-to-EBITDA ratio in the upstream industry.
Article continues below advertisement
Riding the industry-wide bullish sentiment
Other upstream stocks making it to the list of top gainers this week are California Resources (CRC), Bill Barret (BBG), W&T Offshore (WTI), and Callon Petroleum (CPE), which have risen ~16.3%, ~14.9%, ~10.4%, and ~7.5%, respectively. (We're using only oil and gas producers with market capitalizations greater than $100 million and last week's average trading volumes greater than 100,000 shares.)
W&T Offshore (WTI) has risen ~40% in the past seven trading sessions. In the first week of September, WTI announced that the Bureau of Ocean Energy Management has rescinded its orders for WTI to provide additional bonding of $260.8 million.
On September 5, 2017, Callon Petroleum (CPE) announced a cash dividend of $1.25 per share on its 10.00% Series A Preferred Stock. This dividend will be payable on September 29, 2017, to stockholders of record as of September 15, 2017.
These stocks also managed to beat the SPDR S&P Oil and Gas Exploration & Production ETF (XOP), which has risen 3.2% this week. The SPDR Dow Jones Industrial Average ETF (DIA) has risen 0.65% this week.