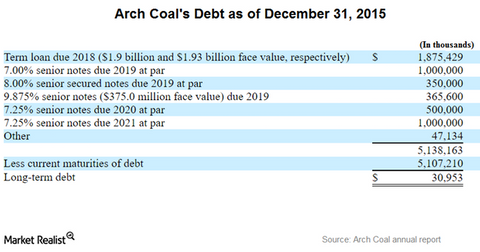 Understanding Arch Coal's Chapter 11 Bankruptcy
By Alexis Tate

Updated
Arch Coal stock
On January 11, 2016, Arch Coal (ARCH) filed for Chapter 11 bankruptcy. On January 12, 2016, Arch Coal common stock was suspended from trading on the NYSE (New York Stock Exchange). However, Arch Coal was trading as a pink sheet offering on the over-the-counter (or OTC) markets under the ACIIQ ticker.
OTC markets are decentralized markets, unlike the usual stock exchanges. OTC markets provide liquidity to securities that are not trading on any stock exchange. OTC market trading is conducted through dealers who act as the market makers and quote the prices at which they buy and sell orders.
Article continues below advertisement
Why Arch Coal filed for Chapter 11 bankruptcy
Coal prices rose steeply between 2007 and 2012. This trend urged Arch Coal (ARCH) and coal producers like Peabody Energy (BTU), Walter Energy (WLTGQ), and Alpha Natural Resources (ANRZQ) to go for highly leveraged inorganic growth.
These acquisitions were carried out partly through equity and partly through debt. Coal companies (KOL) Cloud Peak Energy (CLD) and Alliance Resource Partners (ARLP) did not acquire any coal assets through leverage.
In its largest-ever acquisition, Arch Coal purchased International Coal Group for ~$3.4 billion on June 15, 2011. To help finance the purchase, ARCH sold 48.7 million shares of common stock and issued $2.0 billion in senior unsecured notes of aggregate principal.
However, coal prices fell drastically after the acquisition. Coal demand declined primarily due to oversupply in the global markets. On December 31, 2015, ARCH had total debt of ~$5.0 billion due to its leveraged position. Rising interest expenses and falling coal demand finally led Arch Coal to file for Chapter 11 bankruptcy.