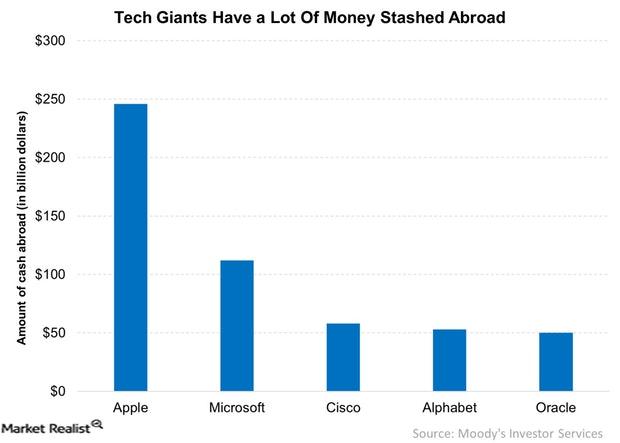 What Trump's Proposed Tax Bill Means for Apple
By Sanmit Amin

Dec. 4 2020, Updated 10:53 a.m. ET
Trump has proposed a 20% corporate tax rate
President Donald Trump has unveiled his plans to change the US tax code. Trump wants to slash the corporate tax rate from 35% to 20%, which could encourage companies to repatriate profits. While corporate taxes will not be as low as the 15% Trump initially promised, big tech companies (IYW) (XLK) will still be encouraged to bring some of the billions they have abroad back to the United States.
Article continues below advertisement
Tech companies have billions of cash overseas
As the graph above shows, big tech companies have kept a lot of money abroad to avoid the massive 35% tax rate slapped on repatriated profits. In 2016, Apple (AAPL) had as much as ~$250 billion abroad, according to Moody's.
The proposed bill will also have a provision that will allow businesses to write off capital expenditure for the next five years. Currently, the government levies taxes on multinational companies on a global basis, meaning that companies have to pay US rates no matter where they generate their income. However, this tax is only levied on repatriated profits.
The bill also proposes a move to a territorial tax system. Under this system, American companies will mainly pay taxes on domestic earnings, which could be a relief for big tech companies. Also, under the territorial system, there would be one-off levy rate on past offshore earnings amassed.