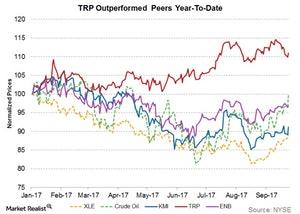 TransCanada Has Risen 11% in 2017 in a Weaker Energy Sector
By Rekha Khandelwal, CFA

Nov. 20 2020, Updated 2:55 p.m. ET
TransCanada has risen in 2017 
The above graph compares Enbridge, TransCanada, Kinder Morgan (KMI), and XLE's performances. In this series, we'll analyze and compare TransCanada and Enbridge's performances. We'll compare the key metrics for these companies including segmental performance, earnings growth, dividend growth, and capital spending.
We'll also analyze the future prospects, institutional ownership, and analysts' recommendations and short interest changes for these two companies.
Article continues below advertisement
TransCanada operations
Founded more than 65 years ago, TransCanada operates in seven Canadian provinces, 38 US states, and Mexico. The company transports natural gas and liquids, operates gas storage facilities, and generates power. It operates one of the largest natural gas transmission networks. TransCanada's natural gas pipelines network supplies more than 25% of the natural gas consumed in North America.
Enbridge's businesses
Like TransCanada, Enbridge has been in existence for more than 65 years. The company operates the world's longest crude oil and liquids transportation system. It gathers, transports, processes, and stores natural gas. Enbridge also generates and distributes power.
Headquartered in Calgary, Alberta, Enbridge has an 85% economic interest in the Enbridge Income Fund (ENF), a 35% economic interest in Enbridge Energy Partners (EEP), and a 75% equity interest in Spectra Energy Partners (SEP).
In the next part, we'll take a closer look at Enbridge and TransCanada's operations.