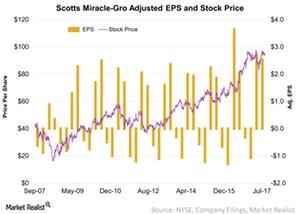 Top 10 Agricultural Chemicals Stocks Include Scotts Miracle-Gro
By Adam Jones

Sep. 19 2017, Updated 9:08 a.m. ET
Scotts Miracle-Gro
Scotts Miracle-Gro's (SMG) roots go back more than a century. Initially, the company was started to help customers grow better lawns, but today, the company offers a wide variety of products. These products include lawn and garden care products, weed control products, and pest control products.
To know more about the company, read our comprehensive overview The Scotts Miracle-Gro Company: What's Its Secret?
Article continues below advertisement
SMG's performance
Over the past ten-year period, Scotts Miracle-Gro has risen 193.0% and significantly outperformed the S&P 500 Index's rise of 69.2% over the same period.
Much of the company's impressive return has taken place in the recent five-year period. It has risen 162.4%, outperforming the S&P 500 by almost 91.0%. YTD (year-to-date) in 2017, the stock has risen just 1.2%.
Unlike PotashCorp (POT), CF Industries (CF), and CVR Partners (UAN), which serve the agricultural market (SOIL), Scotts Miracle-Gro primarily offers its products to the non-agricultural market.
SMG distributes dividends as well. Over the last ten years, its dividend yield rose from 1.8% to almost 2.3% in 2017.
What's driving the company and outlook
In the above chart, we see that SMG's earnings in the past three years have risen year-over-year. Its recent growth has come from acquisitions. Recent enthusiasm for the company has come from its foray into indoor gardening, including hydroponics.
Indoor gardening serves the urban market where space is constrained and traditional resources for gardening are not effective. With hydroponics, you can grow plants in tight spaces such as urban areas as well as in any season. This segment helps SMG mitigate the seasonality in North Amerca and Europe where sales fall in the winter.
The company's indoor gardening products have also gotten a boost from the legalization of marijuana in some US states. Investors see a big role for SMG in the marijuana market. Additionally, in an interview with Forbes, the CEO (chief executive officer) of Scotts Miracle-Gro said, "It's the biggest thing I've ever seen in lawn and garden."
With growth expectations from the hydroponics segment already factored in, the company has risen just 1.2% YTD.