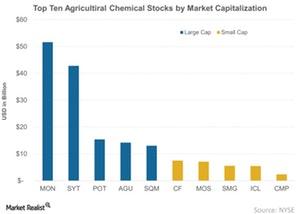 Your Top 10 Agricultural Chemicals Stocks
By Adam Jones

Updated
Screening stocks
Screening stocks for your portfolio is often a daunting task, and there is no one right way to do it. There are several criteria to consider before picking the right one that fits your investment objective. The criteria may include market capitalization, margins, earnings growth, level of debt, dividend yields, valuations, and so forth.
In this series, we'll cover the top ten stocks to try to help you make wise investment decisions. Of the thousands of stocks listed on the US stock exchange, we'll focus on one industry at a time. In this series, we'll look at stocks in the agricultural chemicals industry (MOO).
Article continues below advertisement
The top 10 stocks
A popular criterion investors often use to screen stocks is market capitalization. Ranking them by market capitalization in the above chart, we see that three stocks were large-cap stocks, five were mid-cap stocks, and two were small-cap stocks.
These ten stocks were selected from 16 companies that made the cut. Bear in mind that we've excluded stocks that are traded on the OTC (over-the-counter) market since they may not attract risk-averse investors. We've also excluded ADRs (American depositary receipts) because they may carry additional risks such as currency, inflation, or political factors in countries in which they are listed.
Large-cap stocks (exceeding $10.0 billion in market cap), including Monsanto (MON), PotashCorp (POT), and Agrium (AGU), are often characterized by higher business stability, dividend payments, high-quality management, and several analysts that cover the stock.
Mid-cap (between $2.0 billion and $10.0 billion in market capitalization), which include CF Industries Holdings (CF), Scotts Miracle-Gro (SMG), and others, are characterized by faster growth than large-cap stocks, but they are also riskier. Mid-cap stocks are called that because they are in the middle of large-cap and small-cap stocks. Companies between $300.0 million and $2.0 billion are known as small-cap stocks.
Series overview
Screening stocks by market capitalization alone is not enough. In this series, we'll look in detail at our top ten stocks, and we'll also mention some of the stocks that didn't make it to the list.