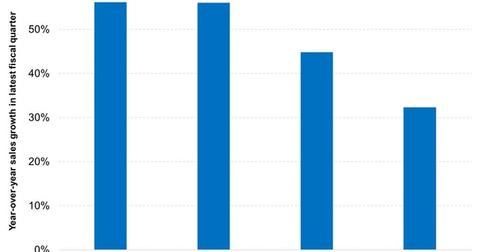 These Large-Cap Tech Companies Saw the Highest Revenue Growth
By Sanmit Amin

Updated
NVIDIA saw the highest revenue growth in the previous quarter
In this part of the series, we'll discuss large-cap tech stocks with the highest year-over-year revenue growth in the latest quarter. The graph below shows the top four large-cap tech stocks with the highest revenue growth.
NVIDIA (NVDA) has seen the highest revenue growth in the previous quarter. The company's revenues for fiscal 2Q18 (quarter ended in July 2017) came in at $2.2 billion. Revenues rose a whopping 56% YoY, while its data center revenues saw a whopping 175% increase YoY. As we mentioned in the previous part, the company's stock has jumped ~200% in the last 12 months.
Article continues below advertisement
Chinese e-commerce giant Alibaba (BABA) saw its revenues rise 56% YoY in its fiscal 1Q18 (quarter ended June), as its core e-commerce business continued to grow backed by the spending wave of the country's growing middle class. The company's cloud computing segment rose 96% YoY. The stock has risen 105% year-to-date.
Facebook and Netflix among top sales growth tech companies
Facebook (FB) is third on our list with 44.7% YoY growth in its revenues in fiscal 2Q17 (ended June 2017). The company's stock surged 47.8%. However, the company's revenue growth has been slowing, as it is running out of advertising space in the site's news feed section.
Finally, Netflix (NFLX) saw 32.3% YoY growth in revenue in fiscal 2Q17 (ended June 2017) on the back of a fast-growing subscriber base. Netflix now has 104 million global subscribers, a 25% YoY increase. The company's stock has risen 50% YTD.