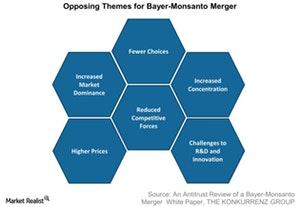 Monsanto-Bayer Merger: Analyzing the Opposition
By Adam Jones

Nov. 20 2020, Updated 5:03 p.m. ET
Opposition
The merger between Monsanto (MON) and Bayer is worth $66 billion. It's one of the largest deals in the agribusiness (MOO) industry. In the past, Monsanto has been opposed by several entities due to concerns related to its GMO (genetically modified organisms) seeds. Let's look at some of the opposition towards the Monsanto-Bayer merger.
Article continues below advertisement
Themes
Recently, a white paper was released by the Konkurrenz Group. The white paper discusses some of the opposition towards the Monsanto-Bayer merger. According to the white paper, the deal would result in an increased concentration. The combined companies would control more than 70% of the cotton acreage in the US.
The sheer size of the combined companies might lead to increased dominance, which could be non-competitive to the market. According to the white paper, the merger would eliminate the compaction between Bayer and Monsanto, which would reduce the competitive research collaboration.
In summary, the white paper strongly opposes the merger. The merger could lead to a strong anti-competitive environment for the industry. Eventually, consumers and farmers will have fewer choices and might have to pay higher prices.
These are some of the concerns that will be addressed by anti-trust regulators in the US, the European Union, and other jurisdictions where the merger could have a negative impact on the market.
We'll continue tracking the deal's developments. For more updates on agribusiness players PotashCorp (POT), CF Industries (CF), and Agrium (AGU), be sure to visit Market Realist's Agricultural Fertilizers page.