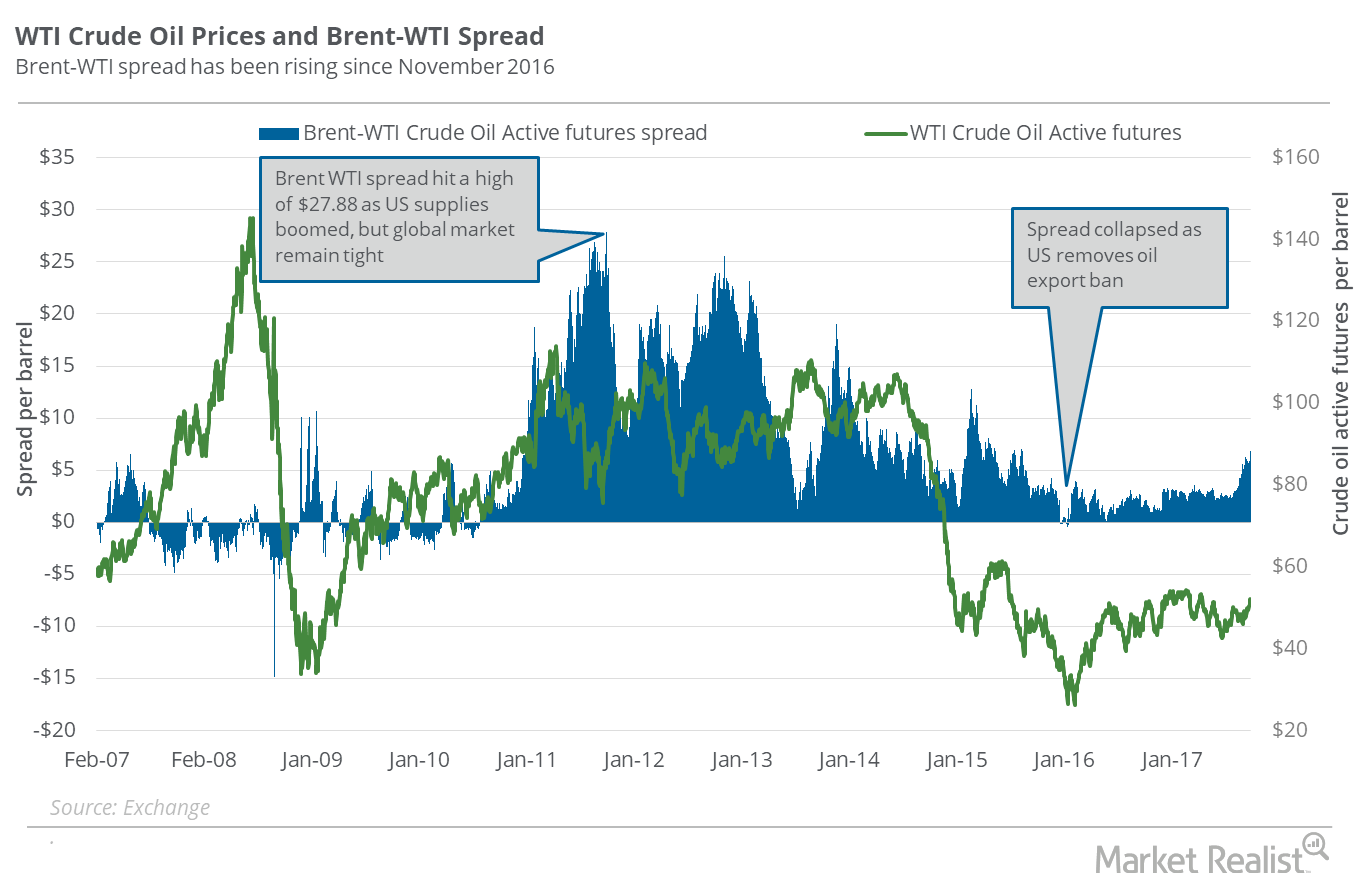 The Kurdish Referendum: Is Brent Outperforming WTI Crude?
By Rabindra Samanta

Nov. 20 2020, Updated 1:12 p.m. ET
Brent-WTI spread
On September 26, 2017, Brent crude oil (BNO) active futures were $6.56 more than US crude oil (USL) active futures. On September 19, 2017, the Brent-WTI (West Texas Intermediate) spread was at $5.66.
Article continues below advertisement
The Kurdish referendum
On September 25, 2017, Kurdish people voted "yes" in their independence referendum. On the same day, the Brent-WTI spread rose to $6.8—the highest since August 14, 2015. The northern region of Iraq, where there the Kurdish Regional Government has semi-autonomous rule, accounted for about 12% of Iraq's total oil production in 2016. Most of the oil produced in this region is transported through a pipeline across Turkey.
The Kurdish referendum could bring political instability to parts of Turkey and Iran, where Kurdish populations also live. Turkey has threatened to stop Kurdish oil transportation through the pipeline across its land, and so in the trailing week, Brent crude oil active futures rose 6%, compared with the 4% rise in US crude oil active futures.
This caused the Brent-WTI spread to rise to a two-year high on September 25, 2017. The spread had already been in an upturn since Hurricane Harvey hit the US Gulf Coast. Notably, this rise in Brent crude oil futures could be vital for European equity indexes such as the FTSE 100 (EWQ) and the CAC 40 Index (EWQ).
US oil export
The widening gap between Brent and WTI crude oil prices could benefit US crude oil exporters, and any rise in the spread could help mitigate transportation costs and increase profits.
However, a rise in the Brent-WTI spread could mean lower domestic prices for US crude oil producers (XOP) (DRIP) compared with their international peers. On the other hand, expansion in the spread could benefit US refineries (CRAK), causing their input costs to fall while their output prices are benchmarked to stronger Brent prices.
For more crucial updates on oil prices, visit Market Realist's Energy and Power page.