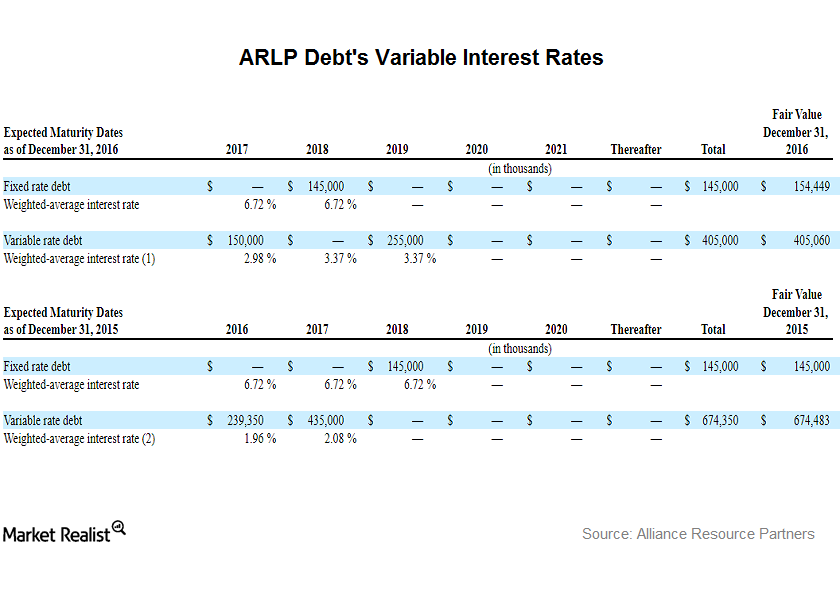 The Flip Side of Alliance Resource Partners' Business: Key Risks
Commodity price risk
Alliance Resource Partners (ARLP) has significant long-term supply agreements. As of June 30, 2017, ARLP's long-term contracts totaled ~38.0 million tons for 2017, 20.1 million tons for 2018, 11.0 million tons for 2019, and 6.9 million tons for 2020. In 2016, 91.5% of ARLP's revenues came through long-term contracts.
Most long-term supply agreements are subject to price adjustment provisions. These allow changes in contract prices to reflect commodity prices as they rise or fall and production cost fluctuations due to regulatory changes. ARLP uses significant amounts of electricity, steel, petroleum products, and other raw materials in its mining operations, and so ARLP's revenues are dependent on commodity prices.
Article continues below advertisement
Credit risk
In 2016, ~90.3% of ARLP's coal sales in tons were purchased by electric utilities. ARLP's credit risk is thus primarily with domestic electric power generators.
Notably, credit risk is a common risk among many coal (KOL) producers, including Peabody Energy (BTU), Cloud Peak Energy (CLD), and Arch Coal (ARCH).
Interest rate risk
The interest rate of ARLP's borrowings under its credit facility, its securitization facility, and its cavalier credit agreements are variable. As of December 31, 2016, ARLP had $255.0 million in borrowings under its Replaced Revolving Credit Facility, $50.0 million outstanding under its Replaced Term Loan, and $100.0 million in borrowings under its Securitization Facility.
Assuming the principal amount of variable debt outstanding to be constant, a 1% increase in interest rate could increase the company's interest expenses by $4.1 million for that particular year. However, according to company filings, ARLP's earnings have not been materially affected by the recent changes in interest rates.
In the next and final part of this series, we'll discuss the factors that could drive ARLP's stock price in 2H17.