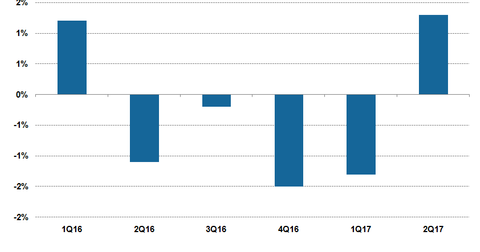 Target Adds Newer Markets to Its Restock Program
By Amit Singh

Updated
Service to cover one-fifth of US population
Target (TGT) announced that it's expanding its popular Restock pilot program to eight new markets that will cover about one-fifth of the total US population. Target Restock is the company's next-day delivery service for essentials, which the company first introduced this past summer in three markets: Denver, Dallas, and Minneapolis.
Through Target Restock, consumers can choose from over 15,000 products, spanning from food to personal care, and get them delivered to their doorstep for $4.99. Building on the program's success, the company is now expanding this service to newer markets, including Chicago, Atlanta, New York, Los Angeles, Philadelphia, St. Louis, San Francisco, and the Washington D.C. and Baltimore areas.
Article continues below advertisement
Mass merchandisers are quickly evolving
Amazon's (AMZN) recent acquisition of Whole Foods is a big blow to retailers—especially those that generate a significant portion of their revenues from selling grocery and everyday essentials. However, the impact of the Amazon–Whole Foods deal on mass merchandisers was overhyped and highly exaggerated.
More than three months have passed since Amazon first announced that Whole Foods deal and mass merchandisers have only evolved rather than caving in to the threat. Notably, Walmart (WMT) and Target are quickly adapting to consumers' changing shopping patterns and coming up with innovative services to match Amazon. These new time- and money-saving offerings are expected drive incremental sales growth as convenience to shop is the key to converting shoppers into buyers.
In addition to customer-friendly services, mass merchandisers continue to offer low prices and are strengthening their digital businesses, which reflects in improving store traffic and stellar e-commerce sales growth. For instance, both Walmart and Target are seeing improved comps trends while Costco (COST) continues to generate industry-leading sales growth through value pricing.
Read more about Walmart's customer-friendly moves in our series Walmart Expands Online Grocery Pickup to EBT Customers.
Target's sales could improve
Coming back to Target, we've seen that the company has undertaken several strategic initiatives in the recent past that are resulting in improved comps, as you can see in the graph above, and are projected to accelerate sales growth. Target is focusing on remodeling existing stores and opening small-format stores that generate double-digit comps growth and higher productivity. Plus, the company's differentiated offerings with the expansion of exclusive brands, value pricing, and continued investment in growth initiatives—including strengthening its digital arm—are expected to supplement its sales growth and solidify its position against rivals. Read more about Target's recent moves in Target's Partnership with Magnolia Is a Strategic Fit.
However, all these measures come at the cost of margins. Target's margins are expected to take a hit as investments in growth initiatives and low pricing are likely to take a toll on profitability. Plus, increased competition—mainly in the grocery space—is expected to dent margins.