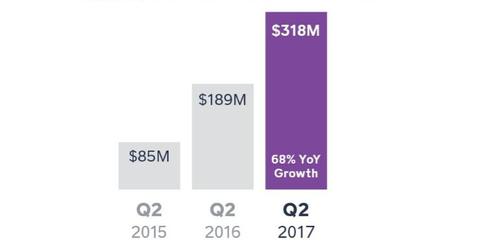 Square: Credit Is Good
By Ruchi Gupta

Sep. 6 2017, Published 1:30 p.m. ET
Playing in the alternative lending market
Going into the lending business may be one of the most rewarding decisions Square (SQ) has made as it tries to accelerate its growth amid heated competition in the digital payments market.
Through Square Capital, Square provides loans to its merchant clients, thus making it a player in the alternative lending market alongside LendingClub (LC). Amazon (AMZN) and PayPal (PYPL) also offer loans to their customers to generate incremental revenue and build a base of loyal customers.
Article continues below advertisement
Credit volume rose 68%
In 2Q17, Square supplied $318.0 million in small business loans, implying a 68.0% rise in its loan volume. More than 49,000 merchants benefited from the credit line during the quarter.
The strong credit demand helped increase Square's subscription and services business as sales there rose 99.0% to $59.0 million. Square Installments, a purchase financing service that the company introduced in June, played a role in growing Square's credit volume.
The above chart shows Square Capital's performance highlights.
Investor appetite for Square Capital is growing
Besides attracting more borrowers, Square Capital is also gaining traction among investors, which is a sign of growing investor trust in Square's credit program. The Canada Pension Plan Investment Board, which has joined Square's growing list of loan purchasers, has more than $300 billion Canadian in assets under management (QQQ).
Square Capital is having multiple favorable effects on Square's overall business. Besides the additional revenue, the credit service is encouraging the use of Square's other products and services and helping boost customer retention.