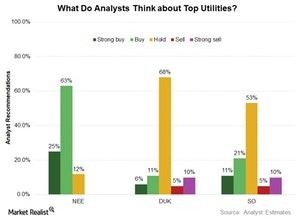 SO, NEE, and DUK: Looking at Top Utilities' Price Targets
Price targets
Let's have a look at the price targets for top utilities in this part of our series. According to Wall Street analyst consensus, Southern Company (SO) stock has a price target of $51.47 against its current market price of $50.64. This difference implies an estimated upside of just 1.6% going forward.
Investment banks like Jefferies and Mizuho Securities have upgraded Southern Company in the recent past, which likely led to the remarkable surge in the stock. However, its power plant glitches still don't seem to be resolving anytime soon. You can learn more about Southern Company's power plant plight in How Southern Company's Power Plant Snags Are Hurting Its Stock
Article continues below advertisement
NextEra Energy
The largest component of the S&P 500 Utilities Index, NextEra Energy (NEE) has a mean price target of $155.57, which indicates a possible rise of nearly 4%. It's currently trading at $150.90. NextEra Energy has rallied more than 21% in the last year, and analysts still seem fairly bullish on the stock. Notably, it doesn't have a single "sell" recommendation from the last year.
Analysts expect flat to negative movement in North Carolina-based Duke Energy (DUK) stock going forward. It has a mean price target of $86.2, and it's currently trading at $87.30. This indicates a downside of 1.3%. You can read more about Duke Energy in Market Realist's series Duke Energy Has Risen 13% in 2017—What's Ahead?
Many US utility stocks are currently trading at or near their 52-week highs. Their valuations and broader markets might continue to drive utilities ahead.
To learn more about US utilities (XLU)(VPU) and how the industry works, read Powering Up: All You Need to Know about Utilities.