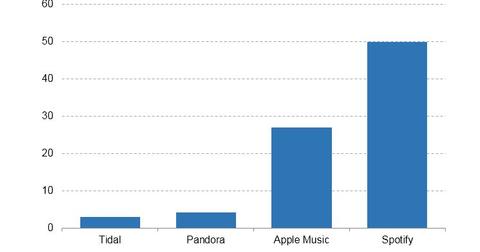 Should Netflix Worry about Apple's Video Push?
By Ruchi Gupta

Sep. 15 2017, Updated 6:38 a.m. ET
Netflix is spending $6 billion on videos
Apple (AAPL) is spending $1.0 billion on videos over the coming year amid escalating competition for high-quality video to be served online.
Netflix (NFLX), a leader in the streaming video market, is spending $6.0 billion on content acquisition this year, implying an increase of about $1.0 billion over its content budget for last year. Netflix's content spending for next year is expected to rise to $7.0 billion.
On the other hand, it's speculated that Amazon (AMZN) could spend $4.5 billion on content for its Prime Video services this year. The company doesn't disclose its official video budget.
Article continues below advertisement
Apple's target is Spotify, not Netflix
In addition to funneling $1.0 billion to video acquisition, Apple has hired respected television producers from Sony (SNE). Should Apple's growing appetite for video worry Netflix investors?
According to Business Insider, citing a note by analyst Amit Daryanani of RBC Capital Markets, Netflix is not the target of Apple's increased video spending. Instead, Daryanani sees Apple as aiming at Spotify, its rival in the streaming music market.
As shown in the chart above, Spotify boasts nearly twice as many paying music subscribers as Apple. By beefing up the video menu of Apple Music, Apple could be trying to boost the appeal of the service so it can hopefully beat Spotify.
Apple could still pressure Netflix
Apple has Spotify in its sights with its expanding video budget, but it could still put pressure on Netflix by driving up the cost of high-quality videos. Besides Spotify, Apple is also facing competition from Tidal and Pandora (P) in the streaming music market.
While Apple counts 27.0 million paying subscribers for its Apple Music, Spotify claims more than 50.0 million paying customers.