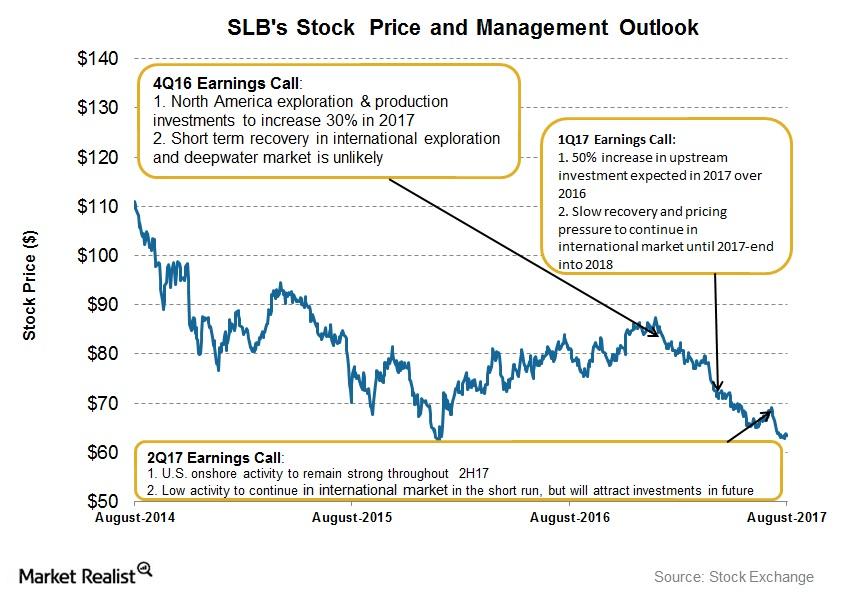 Schlumberger: Management's Views after 2Q17
What does management think?
Schlumberger (SLB) thinks that the energy market is filled with "nervousness and investors speculation," which is leading to the current weakness in crude oil prices. There's uncertainty about the energy market's recovery, despite underinvestment for three years. In it 2Q17 earnings call, Schlumberger's chairman and CEO, Paal Kibsgaard, said, "We are expecting to see clear reductions in global inventory levels in the second quarter leading to more positive sentiments in the oil market."
Article continues below advertisement
Schlumberger accounts for 6.6% of the iShares US Energy ETF (IYE). IYE has fallen 11% in the past year—compared to a 21% fall in Schlumberger's stock price during the same period. Schlumberger also accounts for 0.42% of the SPDR S&P 500 ETF (SPY). SPY tracks the price and yield performance of the S&P 500 Index (SPX-INDEX). The SPX-INDEX has risen 12% in the past year.
Schlumberger's strategies in 2017  
US land activity will likely remain strong throughout 2H17. Schlumberger's hydraulic fracturing calendar is booked well into 4Q17 due to the improved demand for drilling services.
Schlumberger is on track to complete the OneStim joint venture with Nabors Industries (NBR) during 2H17. The joint venture provides additional hydraulic horse power capacity and a full suite of multi-stage completion technology.
OPEC's Gulf countries and Russia are expected to see strong activity in the rest of 2017, which could benefit Schlumberger.
Later in this series, we'll discuss Schlumberger Production Management's business model. In the next part, we'll discuss Schlumberger's revenues and earnings.