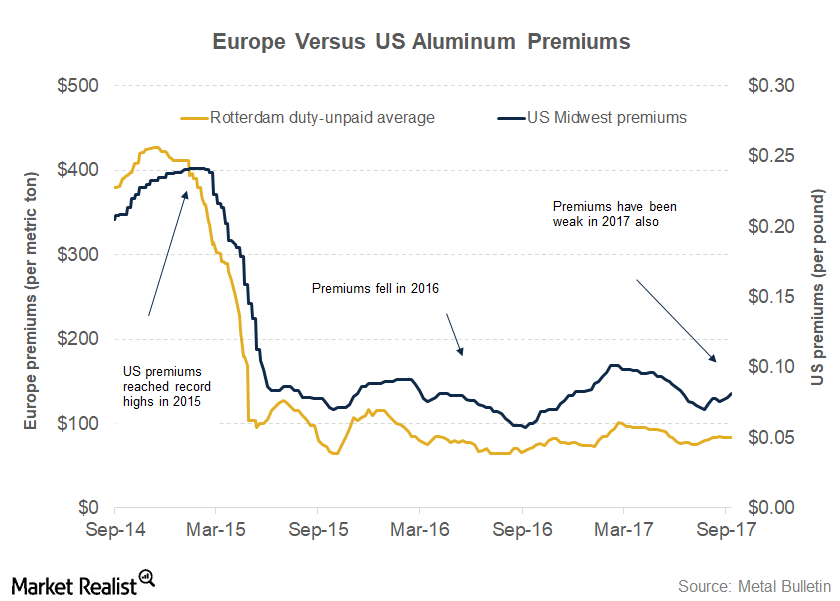 What the Recent Trend in Physical Premiums Means for Alcoa
By Mohit Oberoi, CFA

Nov. 20 2020, Updated 5:03 p.m. ET
Physical premiums
Previously in this series, we looked at the recent trend in alumina and aluminum prices. For aluminum producers, the all-in aluminum price consists of the price of aluminum plus physical aluminum premiums. These premiums are regional in nature—unlike aluminum prices that are more global. The premiums are a surcharge that consumers must pay in addition to aluminum prices in order to take immediate delivery of aluminum from warehouses.
While aluminum premiums have shown some strength in the US and Europe, they're below their 2017 highs. Looking at the year-to-date action, physical delivery premiums are slightly lower compared to what we had at the beginning of the year.
Article continues below advertisement
Impact
Along with aluminum prices, physical aluminum premiums also impact aluminum producers' earnings like Alcoa (AA), Century Aluminum (CENX), and Norsk Hydro (NHYDY). While financial market participants have been optimistic about the lightweight metal's prospects, sending aluminum to multiyear highs, physical markets tell a slightly different tale.
There doesn't seem to be a shortage of aluminum in physical markets—illustrated by sagging physical premiums. The official aluminum inventory in China has risen to an all-time high. We need to watch the impact of China's capacity cuts and the Trump Administration's Section 232 imports probe. While financial markets seem to have already accounted for China's capacity cuts in pricing aluminum, physical markets might wait to see more cuts in China's aluminum production (ACH) (RIO).
Visit Market Realist's Aluminum page for ongoing updates on the industry.