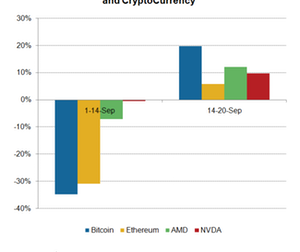 Reading the Correlation between NVIDIA's and AMD's Stock Prices and Cryptocurrency
By Puja Tayal

Updated
Analysts discourage correlation
NVIDIA (NVDA) stock has been on the rise for the past 18 months, but the momentum picked up in April 2017, when demand for GPUs (graphics processing units) from cryptocurrency miners surged. Since the start of 2017, NVIDIA's stock rose 74.5%, of which 56% growth came between April and August 2017. This was the time when cryptocurrencies reached their peak.
Bitcoin prices have risen 354% to a peak of $4,950.7 and Ethereum prices rose 777% to a peak of $387.7, according to data from CoinDesk.
Article continues below advertisement
Many analysts have found that investors are betting on cryptocurrencies through NVIDIA and AMD stocks, and they've warned investors against this, on the grounds that cryptocurrencies are highly volatile and unpredictable. This growth momentum is likely short-lived and could fade when cryptocurrency prices fall.
AMD CEO (chief executive officer) Lisa Su recently gave a similar perspective on cryptocurrencies and excluded mining-related sales in its fiscal 3Q17 guidance, but NVIDIA had a different view on it. (We'll look into this in the next part of this series.)
China crackdown brings temporary declines
According to CoinDesk, bitcoin and ethereum prices fell 35% and 31%, respectively, in the first two weeks of September 2017 due to a crackdown by China's (FXI) regulators. The Chinese government announced plans to outlaw the purchase and sale of currencies that negatively impact the market, and now some large bitcoin exchanges in China have announced plans to shut down by the end of September 2017. During this time, AMD and NVIDIA stocks fell 7% and 1%, respectively.
However, the cryptocurrency decline was short-lived as investors realized that China does not dominate the cryptocurrency market. Cryptocurrency prices started to recover on September 15, 2017, at which point AMD's and NVIDIA's stock prices took a flight, rising 12% and 10%, respectively, in the past week.
Notably, token exchange Gatecoin founder Aurelien Menant, in an email to CNBC, stated that cryptocurrency is heading toward its next bull cycle, which will be fueled by more mature liquidity from institutional players in Japan, Korea, and Europe.