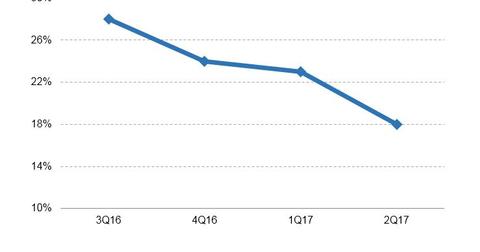 PayPal Credit's Small Business Loan Profile
By Neha Gupta

Updated
$3 billion in small business loans
If large lenders like JPMorgan Chase (JPM) and Citigroup (C) have marked small business and consumer lending as risky credit segments since the 2007 financial meltdown, why is PayPal going there? Despite the highly publicized risks in the small business and consumer lending markets, PayPal is open about its entry into the credit business.
Speaking at separate industry conferences earlier this year, PayPal's CEO, Daniel Schulman, and its CFO, John Rainey, suggested that the company was willing to pay whatever it takes to keep its credit operation running. PayPal has written more than $3.0 billion in small business loans since 2013.
Article continues below advertisement
Credit business contributes 12% of top line
In 2Q17, PayPal's credit division revenues totaled $387 million, up 18% year-over-year. Revenues from this source represented 12% of the company's total revenues in 2Q17, which was flat from 2Q16.
Although the contribution of the credit business to PayPal's top line hasn't improved much over the last several quarters, the company's management believes that its credit business is crucial to the company's success. For example, PayPal uses its credit service to encourage usage of its more profitable products.
PayPal also generates interest and fee income through its credit products. PayPal uses its credit service as a tool to improve customer retention and expand its revenue per customer.