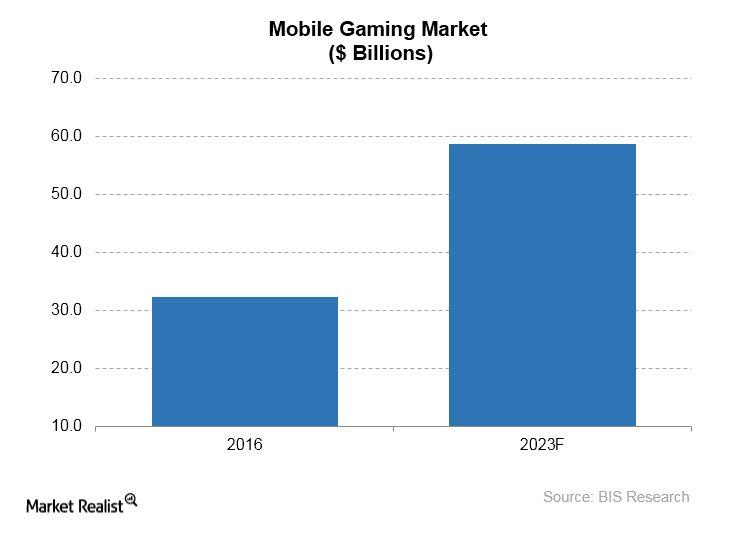 Parsing Zynga's Mobile Metrics
By Neha Gupta

Nov. 20 2020, Updated 1:02 p.m. ET
Shift of digital gaming to mobile
One way to understand the prospects of digital publishers such as Zynga (ZNGA) is to look at mobile metrics, as mobile has become the preferred platform for playing digital games. The mobile gaming market presents a massive revenue opportunity for video game developers such as Zynga, Electronic Arts (EA), Take-Two Interactive (TTWO), Activision Blizzard (ATVI), and Glu Mobile (GLUU).
According to a market intelligence report by BIS Research, the mobile gaming market is expected to grow to $58.7 billion in 2023 from $32.3 billion in 2016. The growth is expected to be supported by the proliferation of smartphones, expanding Internet access around the world, and availability of a diverse range of mobile games.
Article continues below advertisement
Zynga's mobile audience to grow 28%
The chart above shows the projected growth of the global mobile gaming market. If mobile is indeed the future of digital gaming, Zynga is on the right track. The company finished 2Q17 with 19 million mobile DAUs (daily active users), up 28% from 2Q16. The company said this was its strongest mobile DAU growth since 4Q14.
Mobile contributes 86% of top line
Zynga's mobile revenue grew 30% to $179.9 million in 2Q17, accounting for 86% of the company's total revenue, up from 76% in 2Q16. Zynga said its mobile bookings grew 33% in 2Q17, accounting for 87% of its total bookings.