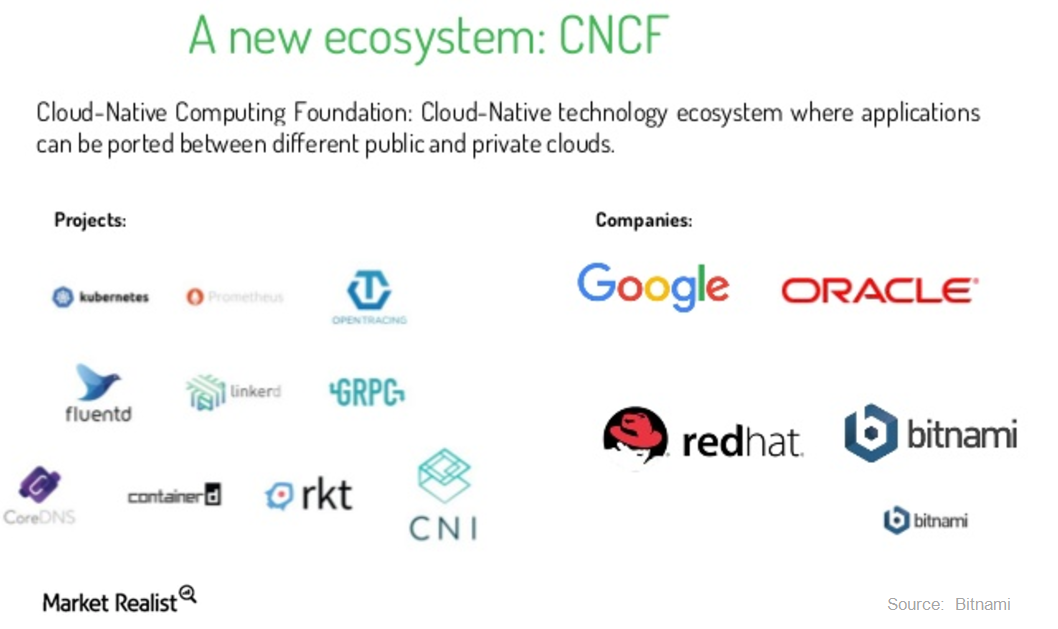 Oracle Joins the Cloud Native Computing Foundation
By Anne Shields

Nov. 20 2020, Updated 4:55 p.m. ET
Oracle joins the Cloud Native Computing Foundation
Previously in this series, we discussed the consistently improving performance of Oracle's (ORCL) cloud offerings in fiscal 1Q18. Oracle took a further step in its initiatives regarding the cloud computing technology. On September 13, Oracle announced that it joined the Cloud Native Computing Foundation as a Platinum member.
This foundation integrates open source technologies like Prometheus and Kubernetes. It was started by Google (GOOG) two years ago, and its membership includes a variety of technology companies that are eyeing the cloud space.

Article continues below advertisement
The foundation's announcement of Oracle's move stated, "According to Redmonk, 71 percent of the Fortune 100 use containers and more than 50 percent of Fortune 100 companies use Kubernetes as their container orchestration platform." The foundation aims to ease the process of adoption of the latest technologies and practices by these companies.
Kubernetes is a container technology that bundles software so it can run in cloud data centers operated by third parties or in a company's server rooms. It is an open source software package that enables developers to mechanize the deployment, scaling, sharing, and running of applications. Prometheus tools monitor the performance of containers after they are deployed.
Kubernetes technology increased adoption
In late August 2017, VMware (VMW) and Pivotal Software teamed up with Google to promote Kubernetes to established companies with their own data centers. In April 2017, Microsoft (MSFT) acquired Deis to get access to Kubernetes technology and to enhance its popularity among developers.