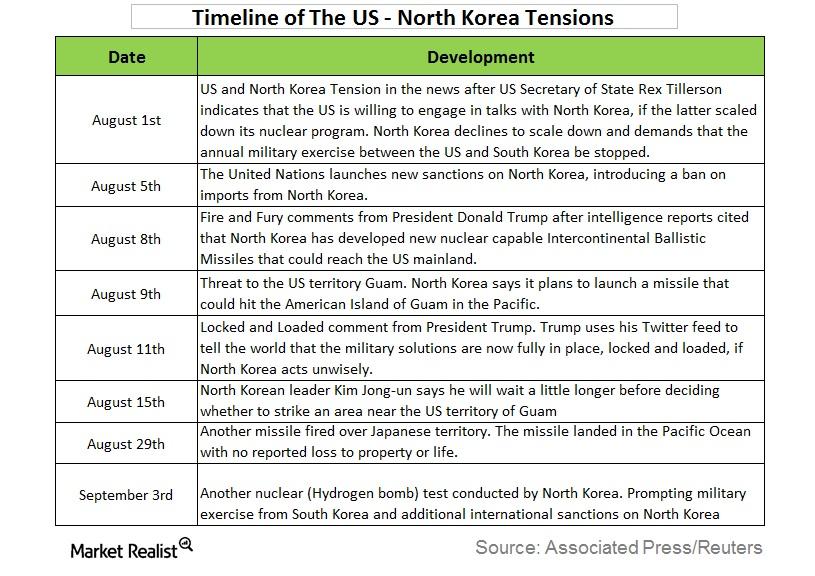 Why North Korea Tensions Matter to the Market in September
By Ricky Cove

Sep. 7 2017, Updated 9:08 a.m. ET
Two missile tests in August
The anxiety surrounding the North Korean missile tests in August is likely to continue into September as North Korea promised follow-up events, such as the recent hydrogen bomb test. North Korea has been aggressively testing its missiles since 2012. According to data from the Nuclear Threat Initiative organization (or NTI), North Korea has conducted 24 missile tests in 2016 and 21 missile tests so far in 2017.
Article continues below advertisement
These tests have always received attention from the international markets, but the recent tests gained prominence as President Donald Trump responded with sharp comments referring to "fire and fury" and "locked and loaded." Market volatility (VXX) shot up in an instant reaction to these developments, but it was quick to return to a normal level. The question we need to ask is whether this pattern will continue.
What is North Korea trying to achieve?
Nuclear tests by any nation can indicate an attempt to project strength. North Korea is no different, as the secretive country is trying to gain respect by showcasing its nuclear capabilities to the world. Its leader, Kim Jong Un, probably knows that his country has little chance to survive a full-blown war, and military observers believe he is unlikely to launch any direct aggressive action.
This scenario is the key reason behind market volatility dropping quickly, as there was no aggressive reply from any of the nations impacted by these tests, as shown in the table above.
What to expect in September and the impact on the markets
After the recent tests by North Korea, the US and other developed economies are likely to pressure the United Nations to impose further sanctions on the rogue state. However, as one of the key allies of North Korea, China might not be happy. Close to 90% of North Korea's international trade is with China. We should monitor any retaliation from North Korea in response to new sanctions.
The demand of safe havens like gold (GLD), the Japanese yen (FXY), the Swiss franc, and Treasuries (GOVT) can rise in times of uncertainty. Risk aversion is likely to weigh on riskier assets like equities (QQQ) and cause bond spreads to widen.
We will discuss the impact of these North Korea tensions and other risks on asset classes in more detail in the rest of this series.