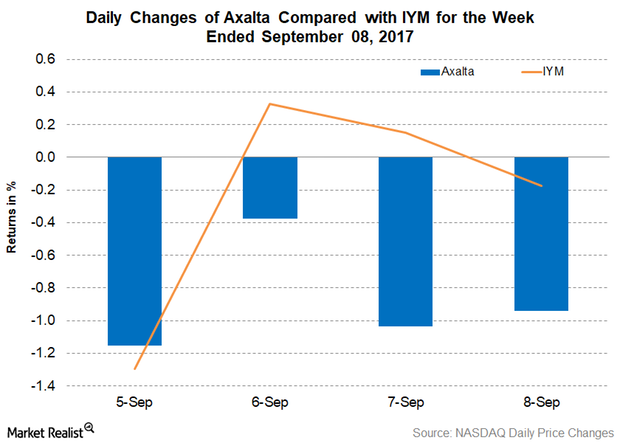 New Economy Product Line Will Be Part of Axalta's Tufcote Brand
Axalta adds new products to its Tufcote brand
On September 5, 2017, Axalta (AXTA) announced that acrylic alkyd and vinyl tolunene alkyd primers and top coats would be included in the Tufcote product lines. The new launches will cover clients who are looking for cost effective and economic coating solutions in the Industrial segment. The alkyd top coats and primers can be used to protect different surfaces on machines, buildings, construction equipment, and drilling rigs.
Article continues below advertisement
John Corry, Axalta's product director, Industrial North America. said, "At Axalta, we strive to deliver products that continue to meet evolving demands of the industry. The new Tufcote series of acrylic alkyd and VT alkyd products will be yet another cost-effective solution that adds value for our customers who require an economy industrial coating."
Axalta's stock performance
In a short week, Axalta's stock fell 3.5% and closed at $28.45. After a disappointing 2Q17, Axalta's stock price fell in a big way. As of September 8, 2017, Axalta's stock price is trading 9.2% below the 100-day moving average price of $31.34, which indicates the prevailing downward trend in the stock. However, analysts expect Axalta's 12-month target price to be $32.59, which implies a potential return of 14.60% from the closing price on September 8, 2017. Axalta's 14-day RSI (relative strength index) of 32 indicates that it's temporarily heading towards an oversold situation. An RSI below 30 indicates that the stock has moved into an oversold position.
Axalta's peers Sherwin Williams (SHW), RPM International (RPM), and PPG Industries (PPG) returned 0.30%, -0.30%, and -1.0%, respectively. The iShares U.S. Basic Materials ETF (IYM), which has invested 1.0% of its portfolio in Axalta as of September 8, 2017, fell 1.0% for the week ending September 8, 2017.