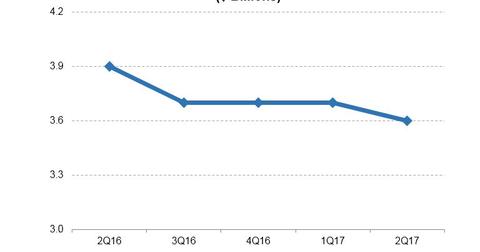 Net Neutrality: Where the Amazon–Dish Deal Could Fit
By Ruchi Gupta

Updated
Dish accumulates airwaves
According to the Wall Street Journal, Amazon (AMZN) and Dish Network (DISH) have discussed a partnership tied to a wireless operation. Amazon and Dish have explored the idea of teaming up to launch a wireless service. 
Along with T-Mobile (TMUS), Comcast (CMCSA), and AT&T (T), Dish Network participated in the government spectrum auction that concluded earlier this year. Dish sits on a large portfolio of airwaves suitable for a wireless operation, and it also faces a government deadline to start using its airwaves by 2020 or face fines.
Article continues below advertisement
Diversifying away from pay-TV
The rumored talks between Amazon and Dish have reportedly focused on Amazon coming in as a founding partner of Dish's wireless business. Such an arrangement would allow Dish to put its spectrum to use and avoid fines.
Launching a wireless service could also help Dish diversify its revenue streams. The company relies on satellite-based pay-TV service for the majority of its revenues, yet satellite and cable pay-TV subscriptions are shrinking as people embrace Internet video services. The chart above shows Dish's revenue trend over the last five quarters.
Escaping the pain of net neutrality rollback
For Amazon, investing in a wireless operation could enable it to tap new opportunities or escape looming challenges. In the case of opportunity, Amazon could use a wireless arrangement with Dish to offer a phone plan to its Prime subscribers for an extra fee.
With the imminent rollback of existing net neutrality rules, Amazon could use its wireless arrangement with Dish to avoid a situation where connectivity becomes clogged.