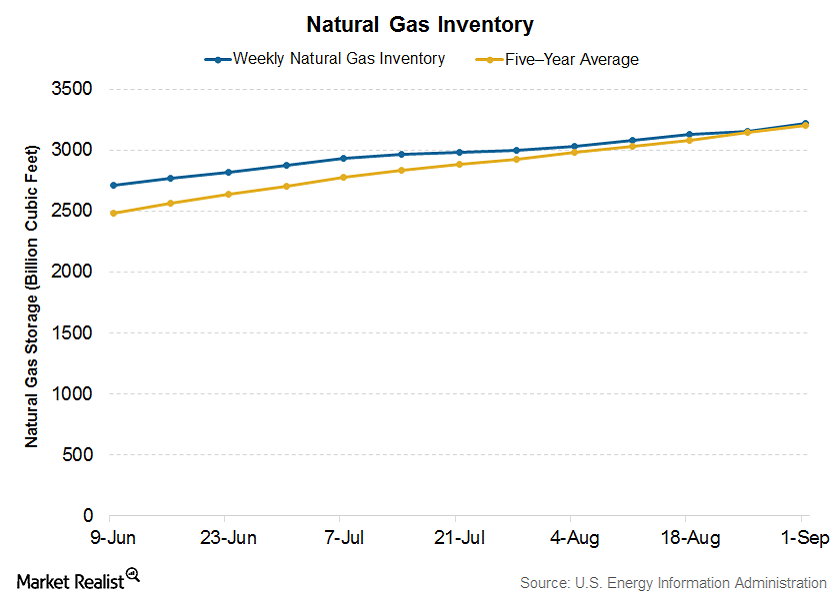 Natural Gas Inventories and Coal in Week Ended September 1
Coal industry indicators
Coal is found in various forms, so various benchmarks have evolved for pricing different types of coal.
Environmental awareness affects supply and demand of the coal market, which in turn affects coal pricing. The price of coal is also influenced by the price of other fuels. When the prices of other fuels are more attractive, the demand for coal can fall, and when other fuel prices increase, coal can become more attractive. Since inventory levels reflect supply and demand trends, they're useful when getting a sense of commodity prices. In this first part of our series, we'll look at the impact of natural gas inventory on coal.
Article continues below advertisement
Natural gas inventory
Natural gas is stored underground throughout the year to save fuel for peak demand during the cold winter months. The natural gas inventory report for the previous week is published by the EIA (U.S. Energy Information Administration) every Thursday. We'll look at the latest report for the week ended September 1, 2017, in this series.
For the week ending September 1, natural gas inventory came in at 3,220 Bcf (billion cubic feet), which was higher than 3,155 Bcf one week earlier.
This inventory figure was 6.2% lower than 3,432 Bcf recorded during the comparable week in 2016. However, it was marginally higher than the five-year average of 3,205 Bcf.
The impact of natural gas inventory on coal
Natural gas inventory has a huge influence on natural gas prices. Higher natural gas inventories indicate a higher-than-expected natural gas supply or lower demand for natural gas. That, in general, may lower natural gas prices. An increase in natural gas prices is positive for thermal coal producers because utilities (XLU) tend to use more natural gas when natural gas prices fall.
Currently, high natural gas prices have positively impacted major coal producers (KOL), including Alliance Resource Partners (ARLP), Arch Coal (ARCH), Natural Resources Partners (NRP), and Peabody Energy (BTU).
Next, let's see what just happened with natural gas prices.