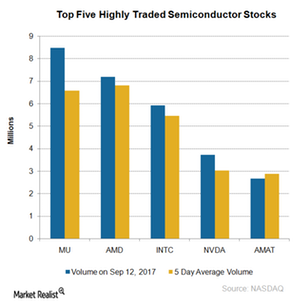 MU Belongs in the Top 5 Semiconductor Stocks, and Here's Why
By Puja Tayal

Dec. 4 2020, Updated 10:43 a.m. ET
Average trading volume
The stocks that have the largest market capitalization or market cap generally trade in large volumes but may not be the highest-traded stocks, as trade volumes depend on investor sentiment. Investors also look at the trading volumes before investing in a stock because this determines how liquid the stock is.
Investors buy stocks with hopes that their price will increase. According to market economics, price increases when demand exceeds supply. If a stock is not traded much, it means it does not have sufficient demand. Investors want to be assured that a stock has sufficient buyers so they can liquidate their money when required.
If we compare the average trading volume over the past five days or ten days, the average daily volume shows if any large trading activity has happened with a stock. A greater-than-average trading volume occurs if large institutional funds trade on the stock.
Article continues below advertisement
Highly traded semiconductor stocks 
As of September 12, 2017, Micron (MU) was the highest traded semi stock, with an average trading volume of 8.5 million, followed by Advanced Micro Devices (AMD) at 7.2 million, Intel (INTC) at 5.9 million, Nvidia (NVDA) at 3.7 million, and Applied Materials (AMAT) at 2.7 million.
Given the five-day trading volumes, the rankings shifted to AMD, with a volume of 6.8 million, followed by Micron at 6.6 million, Intel at 5.5 million, Qualcomm (QCOM) at 3.4 billion, and Nvidia at 3 billion.
Micron
Micron was most recently the hightest-traded stock with the stock price, rising 7% in just five days. We saw a large amount of buying activity after Micron's CFO (chief financial) officer Ernie Maddock, at the Citi 2017 Global Technology Conference, reassured investors that the company's upward growth cycle would continue in fiscal 2018. Many analysts have now raised their price targets for Micron.
Article continues below advertisement
AMD
AMD stock took flight and rose fourfold in 2016, but in the past five days, the stock price has fallen 5.1%, which shows that there was a large amount of selling activity. Investors are apparently concerned that the decline in cryptocurrencies could impact the sales of AMD's graphics cards.
Intel and Nvidia
Intel and Nvidia made the list of highest-traded stocks because they are among the top five largest stocks by market capitalization. Large-cap companies generally trade in high volumes, and both these stocks moved up, showing that buying activity is greater than selling activity.
AMAT and Qualcomm
Applied Materials entered the list of highest-traded stocks based on institutional buying. Qualcomm saw very strong trading activity on September 12, 2017, as Apple launched its flagship iPhone 8. Qualcomm is now in a licensing lawsuit with Apple, and Qualcomm investors are closely following updates on the case, and so trading activity has been very volatile in Qualcomm.