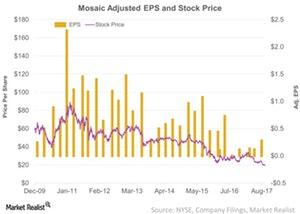 Mosaic: A Top 10 Agricultural Chemicals Stock to Watch
By Adam Jones

Updated
Mosaic
Mosaic (MOS) produces and markets phosphate and potash. It has a worldwide footprint and serves customers in 40 countries. The company is also one of the largest producers of phosphate fertilizers in the world. It has been in existence for more than a century.
To know more, read our overview on the company, An In-Depth Assessment of Mining Company Mosaic.
Article continues below advertisement
Mosaic's performance
Over the past ten-year period, Mosaic has fallen 45.5% and underperformed the S&P 500 Index's rise of 69.2% over the same period. In the above chart, you can see that its earnings have been on a downward trend since 2011, and the stock has trended in the same direction.
The company's poor performance was due to a weakness in the phosphate price realization over the last few years. Unlike nitrogen, phosphate application for fertilizers is not required every year. That impacts the company's stability in demand. Capacity growth is faster than demand growth, which has negatively impacted phosphate prices, putting the company's margins in peril.
Like PotashCorp (POT), CF Industries (CF), and Agrium (AGU), Mosaic also distributes dividends. Over the last ten years, Mosaic's dividend yield rose from 0.15% to almost 3.0% in 2017. In the recent five-year period, the stock has fallen 61.5%, which significantly underperformed the S&P 500. YTD (year-to-date) in 2017, the stock continues to struggle with losses of 28.7%.
State of the industry and outlook
The potash and phosphate fertilizer industry (XLB) is in a down cycle, and the recovery has been painful. While potash fertilizer prices have seen some strength this year, phosphate fertilizers are far from recovery. Excess capacity continues to dominate the industry, and demand has been slow to absorb the capacity. Some believe that prices will improve in the second half of 2017, while others don't see it happening until 2018.