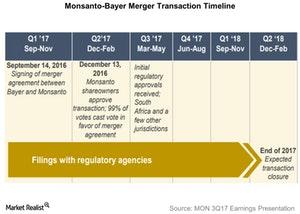 Has the Monsanto-Bayer Merger Hit a Snag?
The merger
Almost a year ago, Bayer announced that it signed a merger agreement with Monsanto (MON) for $66 billion or $128 per Monsanto share. The merger was expected to be complete by the end of this year. In the past year, Monsanto stock has barely touched that acquisition price of $128. The highest point that the stock reached was $119.6 on September 19, 2017.
Article continues below advertisement
Analysts' target
In our latest analyst rating update report, What Analysts Recommend for Agricultural Chemical Stocks, we saw that the consensus median target on Monsanto was $128, which is Bayer's acquisition price. In the same report, we discussed analysts' ratings and recommendations for other companies (XLB) like FMC (FMC) and CF Industries (CF).
While most of the analysts are confident that the stock will reach $128, investors don't seem to agree.
Investors' concerns
There are concerns that the Monsanto-Bayer deal will face severe scrutiny from anti-trust regulators given the size of the deal and the size of the combined companies following the merger. Regulators will likely scrutinize how the combined companies will impact other participants in the market. It will be a challenge for the Monsanto-Bayer deal to come to fruition if other market participants are at a competitive disadvantage.
Investors are cautious about the regulatory approvals. The concerns are evident in the stock price, which has lagged the acquisition price so far this year. Even if the merger continues, there might be certain conditions.
Recently, PotashCorp (POT) and Agrium (AGU) issued a statement that they might receive a conditional approval for their merger from regulators in India and China. The conditions might include the companies spinning off some their business units. To learn more, read An Update on the PotashCorp and Agrium Merger.
In the next part, we'll discuss the latest developments in the Monsanto-Bayer merger.