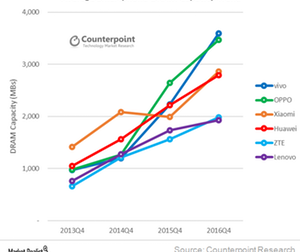 What Are Micron's Revenue Drivers in the Mobile Space?
By Puja Tayal

Updated
Micron's mobile revenue drivers
Micron Technology (MU) reported sequential growth in mobile revenue in a seasonally weak quarter because of high memory prices. However, memory price is a short-term revenue driver and may fall if memory supply increases.
Moreover, global smartphone shipment growth is slowing. Despite this, Micron's mobile revenue could rise due to increasing memory content per handset. This brings us to the question of whether this increase in memory content is here to stay.
Article continues below advertisement
What is driving memory content in smartphones?
As technology advances, more features are being added to high-end smartphones. The increasing demand for multi-camera systems, augmented reality applications, multi bands, and high-resolution displays requires more memory. Not only high-end phones, but even entry-level phones are including more features, which is driving the demand for memory. An average phone has 3 GB (gigabyte) of LPDRAM memory.
As the technology industry becomes more data driven, smartphones will likely become more memory hungry. Thus, this trend is likely to continue for the long term. However, TrendForce lowered its 2017 estimate for average memory content per mobile unit from 3.7 GB to 3.2 GB, representing a 33.4% YoY increase in content. This is because higher memory prices are increasing the cost pressure on handset makers, discouraging them from increasing memory content.
In its fiscal 3Q17 earnings, Apple (AAPL) reduced its gross margin guidance by 50 basis points due to high memory prices and the initial cost in developing a flagship product.
Micron's strategy to leverage mobile opportunity
Micron plans to tap mobile opportunity by developing a range of MCP (multi chip module) offerings for all types of smartphones, from low-end phones to high-end phones. MCP combines DRAM memory and NAND storage, eliminating the need to purchase two separate memory chips. This strategy not only simplifies system design but also speeds the validation process and eases supply-chain considerations. Thus, many mobile OEMs prefer MCPs in their design implementation.
Micron plans to launch around 20 new 1X package-on-package variations in the next 12 months. The company is currently sampling its 32-layer MLC (multi level cell) and TLC (triple level cell) 3D NAND MCP, discrete UFS (universal flash storage), and e.MMC (embedded multimedia controller) devices with chipset partners and handset OEMs. It plans to start shipment of these products in calendar 2H17.
Next, we'll look at Micron's storage business.