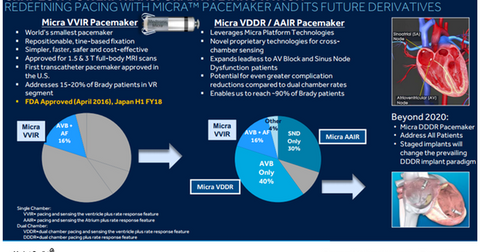 Medtronic Focused on Improving Efficacy of Micra in Fiscal 2018
By Margaret Patrick

Updated
Micra pacemaker market opportunity
According to Medtronic (MDT), ~85% of the patients in the US who use pacemakers opt for a dual-chambered device. However, only 15% patients require it if they have sinus node dysfunction (or SND) or atrioventricular node blockage (or AVB).
Patients often prefer dual-chambered pacemakers, as surgeries for the second device are more complicated if the initial implant is a single-chamber pacemaker.
Despite these constraints, in fiscal 1Q18, Medtronic reported robust demand for its single-chamber pacemaker, Micra, while also garnering higher prices. Micra is the smallest pacemaker in the world and is placed directly inside the patient's heart. In contrast, other pacemakers are placed under the collarbone in the chest with leads or wires extending to the heart.
If Medtronic sees a solid demand trend for Micra in the remaining quarters of fiscal 2018, it may have a positive impact on its stock price, as well as the SPDR S&P 500 ETF (SPY). Medtronic makes up about 0.50% of SPY's total portfolio holdings.
Article continues below advertisement
Dual innovation
To drive demand for single-chamber pacemakers, Medtronic plans to add incremental innovations to the existing Micra platform. Currently, the Micra single-chamber pacemaker has the pacing and sensing the ventricle plus rate response feature (or VVIR). This pacemaker accounts for almost 16% of the atrial fibrillation (or AF) and AVB patients.
Medtronic aims to develop the dual-chamber pacing and sensing the ventricle plus rate response (or VDDR) pacemaker from the Micra platform. This device would also be able to sense the heart's atrium without wires and treat AVB.
The company is also planning to develop the pacing and sensing the atrium plus rate response (or AAIR) pacemaker from Micra platform. By changing the time fixation system, this pacemaker would enter the atrium to treat SND in patients. With differentiated devices for specific conditions, Medtronic expects that only 10%–15% of patients would need to choose the second device.
These innovations are expected to enable the company to compete effectively with cardiovascular device players such as Abbott Laboratories (ABT), Boston Scientific (BSX), and St. Jude Medical (STJ).
In the next article, we'll discuss innovations in Medtronic's Implantable Cardioverter Defibrillator (or ICD) segment.