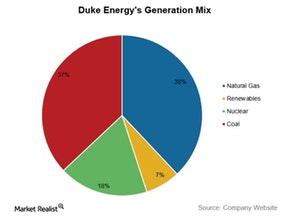 Looking at Duke Energy's Generation Mix
By Vineet Kulkarni

Nov. 20 2020, Updated 1:24 p.m. ET
Duke Energy: Fuel mix
Duke Energy (DUK), the utility with the highest capacity in the country, still generates a large portion of its power from coal. Coal accounts for 37% of Duke Energy's total generation, while natural gas contributes 38% to Duke's generation mix. Renewables and nuclear account for 7% and 18% of Duke's total generation, respectively.
Among the top utilities, NextEra Energy (NEE) has one of the cleanest generation mixes. In 2016, it produced nearly 50% of its total power from natural gas, while coal contributed a mere 2%. Nuclear accounted for 26% of its total generation, while renewables made up 22% of its fuel mix.
Among its large-cap peers, Southern Company (SO) and American Electric Power (AEP) generate a large portion of their power from coal.
Article continues below advertisement
US generation mix
Falling natural gas prices in the last couple of years have significantly changed the US power generation mix. In 2008, coal accounted for almost half of the total power generation in the country, while coal-fired generation made up 30% of total power in 2016. Natural gas contributed 34%, and renewables were responsible for nearly 15% of total generation in 2016.