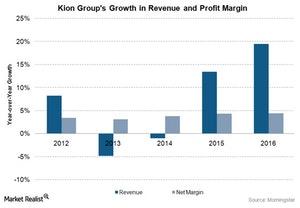 How KION Group Locks in Customers
By VanEck

Sep. 25 2017, Updated 12:36 p.m. ET
VanEck
KION Group AG (KGX GR) is a German multinational manufacturer of materials handling equipment, specializing in forklift trucks, warehouse equipment, and industrial trucks. KION has a "narrow economic moat" rating from Morningstar: "We believe that switching costs underpin KION Group's narrow economic moat, as a high level of reliance on customization, financing, and service agreements support customer stickiness." KION is Europe's leading manufacturer of forklifts (and number two globally), which is critical in supporting the growing global e-commerce supply chain. KION's recent acquisition of Dematic, a leader in warehouse automation, increases its moaty profile, given that Dematic is ranked first in market share in the U.S. and number three in Europe and globally.
Article continues below advertisement
VanEck Vectors® Morningstar Wide Moat ETF (MOAT®) and VanEck Vectors® Morningstar International Moat ETF (MOTI®) provide access to global moat-rated companies, by seeking to replicate the Morningstar®Wide Moat Focus IndexSM and Morningstar® Global ex-US Moat Focus IndexSM, respectively. Each Index tracks the overall performance of attractively priced companies with sustainable competitive advantages in their respective markets according to Morningstar's equity research team.
Market Realist
How Kion Group obtained its moat
The Germany-based Kion Group AG's main products include forklift trucks, warehouse equipment, and industrial trucks. Last year, the company acquired Dematic, the largest manufacturers of lift trucks globally, for $2.1 billion. The company expects that, through Dematic's stronghold in the US automation market, it will be able to position itself better as a lift truck supplier. Dematic is a global leader in providing a broad range of intelligent supply chain and automation solutions. Dematic's addition to the company's product portfolio should provide the business a moat (MOTI) as a one-stop-supplier for intelligent supply chain solutions. Acquisitions have also contributed to the company's revenue and earnings growth, as you can see from the chart below. For fiscal 2017, revenue is expected to grow 40.9% year-over-year.
The company's previous acquisitions of Egemin Automation and Retrotech helped Kion Group strengthen its position as a provider of automated systems solutions.
Egemin is a major player in AGVs in the United States and Europe and for warehouse systems in Benelux and France, creating a competitive advantage for the company. Switching costs play a significant role in creating a moat for Kion Group as its unique product portfolio locks in customers. It also obtained a narrow economic moat (MOTI)(SINA)(TEF) from Morningstar.