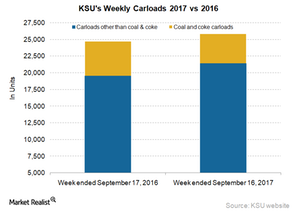 Kansas City Southern: Railcars Kept Freight Volumes Up in Week 37
By Samuel Prince

Nov. 20 2020, Updated 3:58 p.m. ET
KSU's freight volumes
Recently, Kansas City Southern (KSU), the smallest Class I railroad in the United States, was affected by Hurricane Harvey. KSU's railcar traffic increased 4.5% in the week ended September 16, 2017. That week, the company hauled ~26,000 railcars compared with ~25,000 carloads in the week ended September 17, 2016. Week 37 of 2017 was a mixed bag for the smallest Class I railroad. While railcars rose, its intermodal traffic contracted.
Article continues below advertisement
Coal and coke volumes fell year-over-year in the 37th week. Volumes, excluding coal and coke, expanded 9.5% to ~21,000 units. Coal (UGAZ) and coke railcars fell 14.5% to ~4,400 units in the reported week compared with ~5,100 carloads last year. In the 37th week, Kansas City Southern posted volume gains in contrast with the overall US railroads.
Change in commodity groups
Commodities that witnessed volume gains in the 37th week were the following:
grain
crushed stone, sand, and gravel
chemicals and allied products
petroleum products
motor vehicles
The following commodities reported lower volumes in the same week:
grain mill products
pulp, paper, and allied products
metals and products
KSU was severely impacted because its link between the US track and KSC Mexico runs along the Texas Gulf Coast. It's a vital route for appliances and automobiles (TM) (TSLA) manufactured in Mexico for the US markets.
KSU's intermodal volumes
In the 37th week of 2017, Kansas City Southern registered a 3.5% decline in intermodal traffic. It moved ~18,000 trailers and containers that week compared to ~19,000 units during the same week last year.
The company's container volumes fell 3.5% to ~18,000 units from ~18,600 units in the corresponding week in 2016. Trailers, which account for 2.0%–3.0% of intermodal traffic, saw traffic fall 1.6% to ~300 units in the week ended September 16, 2017.
Let's look next at Canadian National Railway (CNI).