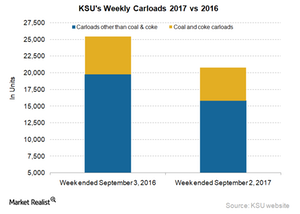 Kansas City Southern and Hurricane Harvey in Week 35
By Samuel Prince

Updated
KSU's freight volumes in week 35
Kansas City Southern (KSU), the smallest Class I railroad in the United States, registered a high double-digit fall in volumes in the week ended September 2, 2017. That week, the overall railcar traffic contracted to ~21,000 carloads compared to ~25,500 in the week ended September 3, 2016.
The fall in volume was seen across key commodity groups. While carloads excluding coal and coke fell 20.0%, coal and coke railcars fell 13.7%. Other than coal and coke, railcar traffic was ~16,000 units compared to ~20,000 units in the 35th week of 2016. Coal and coke carloads were ~5,000 railcars in the reported week of 2017 compared to ~5,700 units in the same week last year.
Like Union Pacific (UNP) and BNSF Railway (BRK.B), Kansas City Southern has been affected by Hurricane Harvey. Its volume decline percentage-wise was much higher in the reported week compared to the fall reported by US railroads.
Article continues below advertisement
Change in commodity groups
In the 35th week of 2017, commodities with positive changes in volumes were crushed stone, sand and gravel, grain mill products, lumber and wood products, and iron and steel scrap. Commodities with reduced volumes in the same week were grain; food and kindred products; pulp, paper, and allied products; chemicals (DOW); allied products; and petroleum (UNG) products.
KSU's intermodal volumes
In week 35 of 2017, Kansas City Southern recorded a 12.6% fall in intermodal traffic. The company moved ~16,500 trailers and containers that week from ~19,000 units in the same week last year.
Containers account for 98.0% of KSU's overall intermodal volumes. The company's container traffic was ~16,000 units, a fall of 2,350 units compared to 18,500 in week 35 of 2016. KSU's trailers fell 10.0% to 250 units in the week ended September 2, 2017, from 280 in the week ended September 3, 2016.
In the next part, we'll take a look at Canadian National Railway (CNI) in week 35.