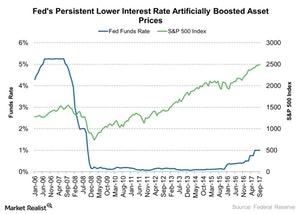 Julian Robertson: The Market 'Is Quite High on a Historical Basis'
By Sarah Sands

Updated
Julian Robertson at the Delivering Alpha Conference
The founder of Tiger Management, Julian Robertson, shared his view on the market, valuation, the Fed's easy monetary policy, and his favorite sectors at the 2017 Delivering Alpha Conference, which occurred on September 12.
Article continues below advertisement
Julian Robertson on market valuation
Julian Robertson said at the conference, "the market as a whole is quite high on a historical basis, I think that's due to the fact that interest rates are so low. But there's no real competition for the money other than art and real estate." Robertson believes the Fed's persistent low interest rate is mainly responsible for the higher valuation of the market.
Since the 2008 subprime crisis, the central bank has been maintaining its key interest rate near zero. The persistent lower interest rate artificially boosted various asset prices. However, the central bank kept interest rates lower to spur growth and inflation in the economy (QQQ) (IWM).
Both economic growth and inflation have remained weaker in the last decade. However, the S&P 500 Index (SPY) rallied nearly 81.6% between January 1, 2008, and September 20, 2017, which shows how the lower interest rates artificially boosted asset prices due to the lower economic growth environment.
By maintaining interest rates lower, the central bank also closed other higher return investment opportunities for investors. Robertson also said, "I think we need interest rates to appreciate, to go up, because I think we are creating a bubble." The Fed already started its gradual rate hike process in December 2015. This rate hike process needs to continue in the near future to reduce this asset bubble.
In the next part of this series, we'll analyze Julian Robertson's view on various sectors.