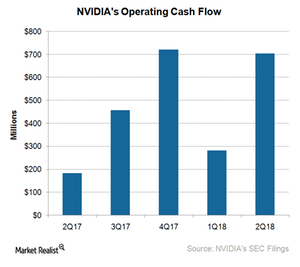 Inside NVIDIA's Capital Spending Strategy
By Puja Tayal

Oct. 5 2017, Updated 9:06 a.m. ET
Cash flow
NVIDIA (NVDA) is a high-growth company and carries high risk. The company is currently on a growth spree with high profits, and the benefits of these are making its balance sheet stronger.
NVIDIA's operating cash flow rose 150% sequentially to $705 million, of which it spent $54 million in capital expenditures, $84 million in dividend payments, and $758 million in share buybacks. It funded a certain portion of the buyback through its cash reserves, which saw its cash reserves fall from $6.2 billion in fiscal 1Q18 to $5.9 billion at the end of fiscal 2Q18.
Article continues below advertisement
As NVIDIA is a growth company, it maintains a high cash reserve in order to withstand any short-term headwinds and invest in future growth opportunities. It had a net cash position (cash reserves minus long-term debt) of $3.5 billion, while Intel (INTC) and Advanced Micro Devices (AMD) had a net debt position of ~$6.1 billion and $526 million, respectively, at the end of calendar 2Q17.
Capital spending
NVIDIA's first priority is to reinvest the cash flows in the business. It spends a large amount of money in hiring engineering talent, and next, it spends money on its workplace. It uses its GPUs (graphics processing units) for its own data center and computing needs and spends a huge amount on getting the best suppliers and vendors to manufacture its GPUs.
After spending the money on its core business of GPUs, NVIDIA invests in partners and startups. The company is currently investing money in a lot of deep learning and AI (artificial intelligence) startups as it explores more applications for AI.
Return to shareholders
NVIDIA has committed to return nearly ~$1.3 billion to shareholders in fiscal 2018. It has already returned $924 million to shareholders in fiscal 1H18. In fiscal 2H18, it's likely to spend over $160 million on dividend payments and $160 million on share buybacks.
NVIDIA's capital spending strategy bodes well for its investors likely because they're not interested in dividends, but rather in returns through stock price appreciation.