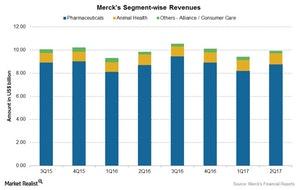 Inside Merck's Segment-Wise Performance in 2Q17
Merck's 2Q17 revenue  
Merck (MRK) segregates its products into two business segments: Pharmaceuticals and Animal Health. For 2Q17, MRK reported an overall 1% growth in its revenues, which reached more than $9.9 billion.
Article continues below advertisement
MRK's Pharmaceuticals segment
MRK's Pharmaceuticals segment (also referred to as the Global Human Health segment) is the company's highest revenue contributor. The segment contributed ~88.2% of total revenues in 2Q17, reporting $8.76 billion, which represents a 2% growth at constant exchange rates, compared with its revenues of $8.70 billion in 2Q16.
The Pharmaceuticals segment includes products for human use in various therapeutic areas including diabetes, hospital acute care, oncology, vaccines, and women's health. The segment also includes a few blockbuster pharmaceutical products like Gardasil, Isentress, Januvia, Janumet, Keytruda, Zetia, Vytorin, and Proquad-Varivax.
MRK's Animal Health Segment
MRK's Animal Health segment includes pharmaceuticals and vaccines for both farm animals and companion animals. The segment reported 7% growth in revenues, reaching $955 million in 2Q17, compared with $900 million in 2Q16.
The contribution of the segment came to ~9.6% of Merck's total revenues in 2Q17, driven by the strong performance of Bravetco products and other companion animal products.
Merck's Animal Health segment competes with Zoetis (ZTS) and Eli Lilly (LLY). To divest company-specific risks, investors can consider ETFs like the Fidelity MSCI Healthcare ETF (FHLC), which has 4.9% of its total assets in Merck (MRK). FHLC also has 2.2% in Eli Lilly (LLY), 2.5% in Abbott Laboratories (ABT), and 0.9% in Zoetis (ZTS).